Thailand observes Vesak Day
NNT, 20 May, 2016
Bangkok, Thailand -- Civil servants and residents of all provinces are participating in alms giving and merit-making activities on the occasion of Vesak Day.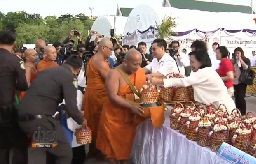 In Chiang Mai province, residents gave alms to monks at Chiang Mai University, while also honoring Their Majesties the King and Queen.
At Wat Si Khom Kham Temple in Phayao province, over 1,000 Buddhists wore white and gave alms to monks. In the evening, residents were to light candles and parade three times around Tilok Aram Temple as part of Vesak Day activities.
At Kok Phu Temple in Tak province, residents joined in offering rice and dry food to monks and also taking part in dharma sermons.
At Phra Thaen Temple Si La At in Uttaradit province, civil servants, students and residents made merit while also giving alms to monks and vowing to be dedicated practitioners of Buddhism.
At Manee Sathit Kapittharam Temple in Uthai Thani province, officials and residents gave alms to monks and listened to dharma teachings.
At Si Sophon Thammathan Temple in Bueng Kan province, residents as well as Lao nationals gave alms in the form of dried rice and also by adhering to the five main Buddhist precepts.
At Phutthamonthon Isaan in Khon Kaen province, residents prepared to take part in the candlelit procession to be held in the evening.
At Sanphaya Wattanaram Temple in Chonburi province, civil servants, students and the general public gave alms to monks, took part in prayers and paid their respects to Their Majesties the King and Queen.
At Muang Yala Temple in Yala province, civil servants, law enforcement officers, military personnel and the general public joined in giving alms to monks, as officials were stationed throughout crowded areas to ensure safety for the public.
Vesak Day, also known in Thailand is Visakha Bucha Day, commemorates the birth, enlightenment, and death of Buddha.