Thai firms to construct five high-end hotels for Buddhist circuit
by Archis Mohan, Business Standard, June 18, 2016
India-Thailand to negotiate a new bilateral investment treaty

New Delhi, India -- India and Thailand today agreed to negotiate a new Bilateral Investment Treaty (BIT) and increase cooperation in areas of defence and maritime security.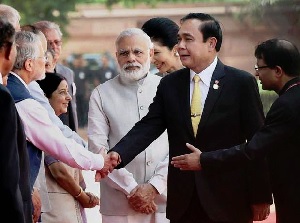 << Thai Prime Minister General Prayut Chan-o-cha greeing dignitaries on his arrival in New Delhi on Friday, June 17, 2016 PTI
Prime Minister Narendra Modi held talks with the visiting Thai Prime Minister General Prayut Chan-o-cha. From the Indian side, Army Chief Dalbir Singh was also present in the delegation level talks.
The two prime ministers addressed a joint media conference after their talks.
Modi said the two countries see an early conclusion of a balanced Comprehensive Economic and Partnership Agreement (CEPA) as their shared priority. On CEPA, the Thai PM said that both countries should focus on what can be done first.
Modi said both the countries have put on priority the completion of India-Myanmar-Thailand Trilateral highway and early signing of the Motor Vehicles Agreement between India, Thailand and Myanmar. "Connectivity is also an area of priority for India's development. Improving access to Southeast Asia from our north-eastern states benefits both our peoples," Modi said.
India and Thailand also signed two agreements in the fields of culture and education, including for cooperation between Nagaland University and Chiang Mai University.
The Indian PM also announced that India will soon facilitate double entry e-tourist visas for Thai citizens. Thousands of Thai tourists travel each year to India to visit Bodh Gaya and other sites of Buddhist significance. Modi said Thai companies will invest in the development of the Buddhist Circuit and construction of five high-end hotels.
Thailand being India's maritime neighbour, Modi talked about the two countries forging a partnership "to meet our bilateral interests and to respond to our shared regional goals".
On trade and commerce, Modi welcomed the first meeting of the India-Thailand Joint Business Forum, which was held later today. The Prime Minister of Thailand invited Indian investments to Thailand under the cluster development policy, which is a newly initiated program aimed at enhancing investment in focused areas," the joint statement said.
The policy will help expand the investment network between the two countries in various mutually beneficial sectors, including information technology, pharmaceutical, automotive parts, chemical products, machinery and parts, bio-technology, and R&D, it said.
It was agreed that the Food and Drug Administration of Thailand and the Central Drug Control Organiser of India will cooperate in the area of pharmaceuticals. On the issue of security of navigation in the Indian Ocean, both agreed to work towards the completion of the negotiation for the signing of the White Shipping Agreement between the two countries.
Thailand expressed interest in the Indian defence industry and its experience and expertise in the field of defence R&D and production.