Thailand: Abbot kicks monk out of Buddhist order for being too small
AsianCorrespondent.com, 19 August 2016
Bangkok, Thailand -- THAILAND'S smallest monk was disrobed this week after a senior monk decided he was too small.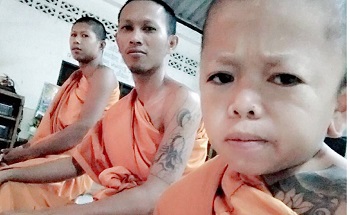 << Sermsak, right, says he will continue to follow the teachings of Buddha. Image via Daily News.
Venerable Sermsak Thammasaro, who is 99cm tall and weighs just 15kg, was disrobed in a ritual on August 16 because he was deemed "disabled and a burden".
Sermsak, 21, who was said to be very popular among local villagers, was ordained just one month ago.
The unnamed senior monk at Thap Chang Temple in Soi Dao District of the eastern province of Chanthaburi said ordaining persons who are physically too little is against Buddhist Vinaya, a Buddhist monastic order. He added that Sermsak could be accepted as a 'Nayn', a form of novice monk.
Local media reported that Sermsak or the monk that ordained him had to leave the monkhood, with Sermsak opting to take the fall.
While the incident has sparked anger among villagers and Thai netizens, experts have insisted that Buddhist Vinaya prohibits persons with dwarfism to be ordained as Buddhist monks.
"Although I have become a layperson, I still have faith in Buddhism and will continue to follow the teaching of Buddha," Sermsak wrote on Facebook, as translated by Prachathai.
Thai monks have been making the headlines for the wrong reasons in recent months, particularly with the gruesome discovery of tiger parts and 40 dead tiger cubs at the so called 'Tiger Temple' in Kanchanaburi province earlier this year.
Last year, two monks were expelled from their order after after crashing their truck while returning to their temple after an hours-long drinking binge.