Ex-Buddhist chief among 9 charged with graft
by KING-OUA LAOHONG, The Bangkok Post, 9 Jan 2018
Bangkok, Thailand -- In July 2015, Sathien Damrongkadeerat, who at the time served as the director of the Songkhla Provincial Office of Buddhism, contacted the three temples, saying he would earmark budgets for them on condition they repay a fixed amount to him, according to Mr Worawit.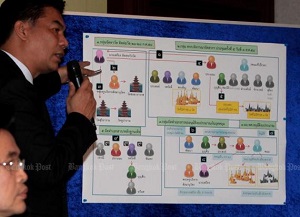 << Secretary-general Worawit Sukboon of the National Anti-Corruption Commission (NACC), explains the network allegedly behind the embezzlement of temple funds in the southern border provinces.

The budget-allocating committee met on Aug 3, 2015 and agreed to grant the temples a budget of 4 million baht apiece. Mr Phanom approved transferring the money, Mr Worawit said.
After the money was wired, Mr Sathien contacted the temples asking them each to return 3.2 million baht to him, Mr Worawit said.
Phra kru Borihan Sangkanuwat from Wat Choltarawas gave the sum to Mr Sathien at a Tesco Lotus in Songkhla on Aug 21, 2015. Mr Sathien was arrested at that location.
Ms Pranom reportedly phoned Wasawas Kittithirasit, a planning and policy analyst at the NOB at the time, asking him to create a document for a project promoting Buddhism. He said this was aimed at boosting the morale of Buddhists in the deep South.
Mr Worawit said the project was drafted to make it look as though the 4 million baht wired to Choltarawas temple would be used to support this programme.
The document was later faxed to the Songkhla Provincial Office of Buddhism so Mr Sathien could refer to it following his arrest to justify his actions, Mr Worawit added.
The document includes messages indicating that 3.2 million baht would be delivered to the chiefs of the provincial offices of Buddhism in the five southern border provinces at their meeting on Aug 28, 2015.
Ms Pranom later wrote to the directors of these provincial offices to inform them of the plans regarding the project so they could work with clergymen and local people.
She explained the 3.2 million baht from Wat Choltarawas would be used in the project's first phase and the directors needed to get the money from Mr Sathien on Aug 28, 2015 at Wat Khok Saman Khun in Songkha.
The 3.2 million baht from Wat Yuparam would be used in the second phase, with an allocation of 800,000 baht each for Songkhla, Pattani, Satun and Narathiwat, the letter claimed.
The same sum from Suriyaram temple would be divided into similar portions and distributed between Pattani, Satun, Yala and Narathiwat, it maintained.
Mr Worawit said the budget-allocating panel earmarked the money without completing the proper documentation, which indicated malfeasance.
Project and other documents were issued falsely after Mr Sathien was apprehended, he said.
The official letters Ms Pranom wrote to the NOB on Aug 27 and Aug 31, 2015 about the project suggest she certified the work of Mr Sathien, he said.