Bogus monks, abuses of Buddha images discussed at World Fellowship of Buddhists meeting
by Goh Seng Chai, The Buddhist Channel, Nov 9, 2004
Bangkok, Thailand -- The 69th executive council meeting of the World Fellowship of Buddhists brought up contemporary but pertinent matters which affected Buddhists world wide. Among the items discussed at the meeting was the abuse of the use of Buddha images, the bogus monks issue, the proposed amendment to the Constitution and determination of host of the next General Conference.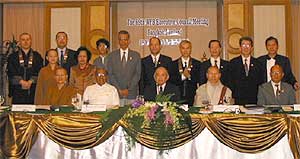 The meeting decided on the following:
? The meeting formed a task force to monitor the situation on the Abuse of the Buddhist Images. Once such abuse is found, the Task Force will immediate act on it by contacting the relevant authorities
? On the issue of Bogus Monks in Malaysia that has caused immense damage to the image of Buddhism in the country, it was decided that the WFB Headquarters will contact the Royal Thai Embassy in Malaysia to give the contact of the person(s) with the telephone number so that the Regional Centres can call them when the Bogus monks and those ladies dress in white are spotted in the market place selling the holy strings or begging.
? The proposed revision Constitution of the WFB has been finalized and will be sent to all the Regional Centres. Once the feedbacks have been obtained from them, the final copy of the revised Constitution shall be tabled for approval at the next General Conference. The revised Constitution is aimed at improving the WFB as the world Buddhist organization representing the world Buddhists and to be effective organization dealing with important issues pertaining to the propagation of the sublime Teachings of Lord Buddha.
? It was decided that the 23rd General Conference of the WFB and the 14th General Conference of the WFB Youth will be held in EDMONTON, CANADA in 2005 and the host shall be International Buddhist Friends Association (IBFA) under the Presidency of Dr Steven K.H. Aung.
Among those members of the Executive Council attended the meeting were Dr Ananda Guruge, Vice President (USA), Bhiksuni Chueh Men, Vice President (Taiwan), Mr Phallop Thaiarry, Hon Secretary-General (Thailand), Mr Goh Seng Chai (Malaysia), Mr Padma Jyoti (Nepal), Rev. Yoshiharu and Dr Yo Hsiang-chou (Taiwan).
The Executive Council of The World Fellowship of Buddhists (WFB) meeting was the 69th to be held. The meeting was chaired by H.E. Phan Wannamethee, the President of WFB. It was held in Bangkok, Thailand from October 29 ? 30, 2004.