5,000 Buddhists protest against listing breweries on Thai exchange
Today Online (Singapore), July 20, 2005
Bangkok, Thailand -- Some 5,000 Buddhist monks, nuns and students have rallied outside the Thai Securities and Exchange Commission to demand that regulators revoke a decision to allow breweries to list on the stock exchange.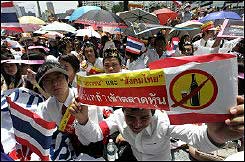 The protest by a coalition of 128 anti-vice groups came after Thai Beverage Co, which makes the country's best-selling Chang beer, filed last Thursday to list on the Stock Exchange of Thailand.
"Followers of Buddhism, Christianity, and Islam all suffer from the negative effects of alcohol, so how can the Securities and Exchange Commission stand by its decision," said the leader of the protest, Chamlong Srimuang, a political mentor of Thai Prime Minister Thaksin Shinawatra.
Thailand already ranks fifth in the world for alcohol consumption, according to the UN Food and Agriculture Organization, and Chamlong claimed a public listing would only push that rate higher.
"By listing on the stock exchange, the company could earn 100 billion baht (2.4 billion dollars). That money would be spent on all types of marketing promotions to encourage the public to consume its product," he said.
Chamlong also warned that road deaths would rise because of increased cases of drunk driving.
Public health statistics indicate some 72 percent of road accidents in Thailand are caused by drunk driving, leaving thousands dead or injured.
The protesters marched through downtown Bangkok from the SEC to the stock exchange's building a few kilometers (miles) away.
In addition to Chang beer, which sponsors the Liverpool-based Everton football club, Thai Beverage also produce popular local whisky brands such as Mekong, Sangsom, and Hongthong.
The SEC postponed a decision on whether to list Thai Beverage in March, amid large protests.
Thai Beverage's owner Charoen Siriwattanapakdi is the richest man in Thailand, with assets estimated at 3.0 billion dollars by Forbes magazine. ? AFP