Thousands march against liquor firm listing
by PLOY CHITSOMBOON, Bangkok Post, July 21, 2005
Bangkok, Thailand -- About 10,000 Buddhist monks, nuns, students, and social activists yesterday took part in a mass protest, calling on the government not to allow listing of Thai Beverage Plc on the Stock Exchange of Thailand.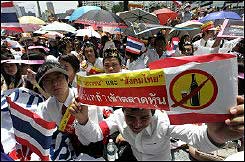 The protest, led by 128 religious and social groups, including the Santi Asoke, Dhammakaya, and Dhamma Power Foundation sects, took place at the Securities and Exchange Commission, the SET and parliament. The protesters demanded regulators rescind an earlier decision to allow the company to list on the bourse.
Owned by billionaire Charoen Sirivadhanabhakdi, Thai Beverage is a holding company under which Chang Beer, Mekhong rum, Saeng Som, Hong Thong and other well-known brands of beer and liquor are produced.
The company filed its plans to list on the stock exchange with regulators last Thursday in what is expected to be Thailand's largest ever initial public offering (IPO).
But the proposed listing has generated a good deal of criticism due to the perception that the move represents state support for the consumption of alcohol.
Maj-Gen Chamlong Srimuang, former leader of the Palang Dharma party, noted that Buddhist, Islamic and Christian teachings all offered cautions regarding the dangers of drinking alcohol, and questioned how the SEC could permit the company to list.
``There are efforts taking place quietly to allow the company to list on the SET. We know from past experience that the regulators would quietly try and move forward with the listing and that's why we are here protesting,'' he said.
Maj-Gen Chamlong cited studies by the United Nations Food and Agriculture Organisation (FAO) that showed that Thailand already ranks fifth in terms of alcohol consumption worldwide, and warned that a public listing for Thai Beverage would only push the rate higher.
``It's a total disaster. By listing ... , the company can earn 100 billion baht. That money would be spent on all sorts of marketing campaigns to try and get the public to consume even more alcohol,'' he said.
Maj-Gen Chamlong says 63,942 people had signed a petition to call on parliament to pass a law preventing liquor-related businesses from listing on the local bourse.
Patareeya Benjapolchai, a SET executive vice-president, said after receiving a petition from Maj-Gen Chamlong that the final decision on the listing had yet to be made.
Thai Beverage had planned to list on the SET earlier this year, but was forced to postpone its plans in March following strong public opposition.
The company hopes to raise as much as 40 billion baht through the offering.