Despite presence of guards, monk prays for his safety
by WASSANA NANUAM, Bangkok Post, July 25, 2005
Narathiwat, Thailand -- Even with the protection of armed troops, a Buddhist monk confesses he prays for his own safety during his daily round of alms-taking.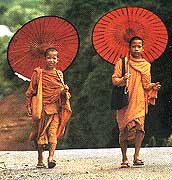 ``While collecting alms from villagers, I have to pray for my safety despite being accompanied by soldiers. I still have to be alert,'' said Phra Samruay Thanachitto, 60, a monk at Wat Urairattanaram in Bacho district.
Phra Samruay came to stay at Wat Urairattanaram in June after Phra Mool Suwanno was seriously wounded as he took alms under the protection of an armed marine late in May. He had once stayed at the temple for a while before moving back to a temple in Trat province.
On learning there was no monk at the temple after Phra Mool had been wounded and then treated in hospital, Phra Samruay decided to return.
``I couldn't bear to see the temple abandoned like that. I have a great deal of sympathy for Buddhists here as they had no one to turn to when they were in need of moral support,'' the monk said.
Phra Samruay returned to Wat Urairattanaram and sent a request to the Royal Household Bureau for monks under Her Majesty the Queen's patronage to be posted at the temple. He also asked Phra Pithak Phuthayano, 67, of Wat Thongthammachart in Trat's Laem Ngop district, to accompany him to Narathiwat.
``I'm a little afraid, but not much, probably because we have soldiers to protect us. As a monk, we should not be afraid of death but perform our duties to preserve Buddhism and give moral support to Buddhist villagers now living in fear. Their way of seeking relief from suffering is to make merit,'' Phra Pithak said.
Apart from Phra Samruay and Phra Pithak, the Royal Household Bureau sent monks to Wat Urairattanaram. Sixty-three monk volunteers under the Queen's patronage have arrived in Narathiwat to stay separately at various temples which only had one or two monks left.
Wat Urairattanaram is where the marines set up an operational base. Over the past year it has been attacked 15 times by militants. Most recently, on June 25, a number of militants fired 20 shots into the temple while monks were praying in the chapel. Fortunately, nobody was hurt.