A Second Birthing
Story by NISSARA HORAYANGURA, Bangkok Post, Nov 9, 2004
Bangkok, Thailand -- It's the classic trick question. Ask most people - even a devout Thai Buddhist - where the historical Buddha was born, and they will often, confusing it in their minds with the country where Buddhism is said to have originated, answer "India".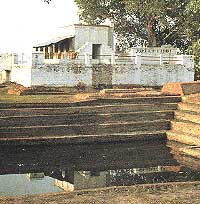 Lumbini, the place where the Buddha was born, is in fact located in Nepal. So too is Kapilavastu, the ancient capital of the Shakya kingdom, where Prince Siddartha spent his first 29 years before leaving his father's palace to pursue the spiritual mission that was to have such far-reaching effects. Although he spent his later life travelling and teaching in what is now India, these and several other important sites in his early life are to be found in this beautiful Himalayan kingdom - a fact that many are not aware of.
Nepal wants to change that.
Its government has a grand vision for Lumbini - to develop it as the holiest Buddhist pilgrimage site and, beyond that, as the "fountain of world peace".
In 1998, at the first World Buddhist Summit held in Lumbini and hosted by the Nepali government, representatives from over 20 countries, Buddhist and non-Buddhist, and international organisations including Unesco and the UN Development Programme, adopted the "Lumbini Declaration" endorsing this vision and committing their support to Nepal to bring it to life.
---

Drawing on the resources and goodwill of many nations, the birthplace of the Buddha is hoping to give a second gift to mankind: world peace

---
The World Fellowship of Buddhists, one of the largest Buddhist organisations, also voiced its support for the initiative at its general conference in the same year.
Now Nepal plans to hold a follow-up, the 2nd World Buddhist Summit, in Lumbini from November 30 to December 2, to report on progress made since the last meeting and to reinvigorate the process of developing Lumbini.
The concept of Lumbini as a "fountain of world peace" will also be expanded to a "world peace city", incorporating other Buddhism-related sites in its vicinity such as Kapilavastu, Devadaha - the hometown of the Buddha's mother, and Ramagrama, believed to be a major repository of Buddha relics.
The development of Lumbini has long attracted interest, both domestic and foreign. Efforts began with the visit of Nepal's King Mahendra in 1956, after which he donated one million rupees for basic infrastructure.
In 1967, UN Secretary-General U Thant, a Burmese and devout Buddhist, visited Lumbini and mobilised an international effort to develop the holy site. With UNDP funds, renowned Japanese architect Kenzo Tange completed a master plan for Lumbini's development in 1978.
In 1985, Nepal's government established the Lumbini Development Trust under the patronage of its king and, since 1998, under the chairmanship of its minister of culture, to oversee the implementation of Tange's master plan. (See "In and around Lumbini", back page.)
In 1997, Lumbini was added to Unesco's list of World Heritage Sites.
As a Buddhist pilgrimage site, the importance of Lumbini can be traced back to its mention in the Mahaparinirvana Sutta, Buddha's final sermon. While in Buddhism there is no requirement to make pilgrimages, equivalent to, for example, the Muslim haj to Mecca, prior to his passing the Buddha spoke of the significance of visiting four holy sites.
According to an article by a Nepalese Buddhist monk named Bhikshu Sudarshan, the disciple Ananda had asked what would happen after the Buddha's demise to the tradition of monks from all over coming to see him at the end of the annual rains retreat.
The Buddha answered, "Persons of devotion will continue to visit and see the four holy places: the place where the Buddha was born, the place where he attained enlightenment, the place where he turned the wheel of dhamma [gave his first sermon], and the place where he passed away."
These four places correspond to present-day Lumbini, Bodhgaya, Sarnath and Kushinagara - the last three of which are in India.
Phra Sawasdi Jittapalo, a monk at the Thai monastery in Lumbini, believes that a pilgrimage can indeed strengthen devotees' faith and endurance. "A lot of Thai people tend to be most interested in visiting Bodhgaya, but in my opinion all four sites are equally important."
Nepal's minister of culture, tourism and civil aviation, Deep Kumar Upadhyay, agrees. "All the four sites are equally important, there's no doubt about that. But Lumbini is the holiest."
Its status as the "holiest" was established in the Lumbini Declaration of 1998 by representatives of the international community - including India.
Minister Upadhyay dismisses any potential conflicts with India over this designation. Instead, he emphasises Nepal's plans to work with India to link up the four holy sites to create an integrated Buddhist pilgrimage "circuit".
Joining forces to develop a pilgrimage package would benefit both countries, he points out.
On the drawing board is the expansion of the domestic Gautam Buddha Airport in Bhairawa, 22 kilometres from Lumbini, into a regional airport which could handle connecting flights to Varnasi (near Sarnath) and Bodhgaya, as well as direct flights to Sri Lanka, Burma and Thailand.
Minister Upadhyay has also met with senior officials in the Thai government to discuss the possible cooperation of Thai airlines in providing connections between the pilgrimage sites and a broader network of foreign countries via Bangkok.
The plan to link up with the wider world reflects Nepal's aim to position Lumbini not simply as a pilgrimage site specific to Buddhists, but as a beacon beaming out the light of global peace.
These two roles actually converge, said Dhakal Dipendra Purush, former secretary of the Ministry of Tourism and Civil Aviation, and a leading member of the committee organising the 2nd World Buddhist Summit.
Even among non-Buddhists, the Buddha is known and respected for being an "apostle of peace", said Dhakal, who, like the majority of Nepalis, is of the Hindu faith. "I'm not a Buddhist, but that is why I like to worship the Buddha."
Partly because Lumbini is a Buddhist pilgrimage site located in a country where the majority is not Buddhist, but perhaps, more significantly, because the Buddha's teachings, particularly those about peace, are universal, Lumbini differs from the holy places of other religions.
Said Dhakal, "Mecca is only open to Muslims. Pashupathi [the holiest Hindu temple in Kathmandu] is open only to Hindus. But Lumbini is open to all."
Not only is the message of peace relevant to all people, it is especially pertinent given the troubled state of the world today. As Minister Upadhyay noted, "Nepal has historically been famous for peace, but now we've had eight years of Maoist insurgency.
"It's very painful to us. Also, now the whole globe is not safe due to terrorism. That's why the philosophy of Buddha is becoming more and more important and attractive to all the people. To make harmony for peace - it's a very appropriate time."
While the need for peace may be pressing, building its "fountain" has not been an easy process. Lumbini Development Trust (LDT) officials say it is difficult to state exactly how much of the master plan has been completed, as Tange's work was conceptual rather than detailed and hence subject to interpretation, but estimates given range from 40 to 50 percent.
Funding shortfalls have been a major obstacle, Dhakal notes. "It's a huge project for a small country like Nepal." Foreign donations - such as the financing of the library building by the Japanese Buddhist organisation Reiyukai, and the museum building by the Indian government - have helped, he says, "but much more is needed".
A related problem, according to Ang Dawa Sherpa, the LDT's member secretary, is the tendency for foreign donors to pour money into the construction of their country's own temple in the so-called Monastic Zone, causing a decline in donations to the general LDT fund.
To develop Lumbini properly, Nepal needs the support of the international community but, by the same token, it also invites their input.
"We welcome everyone who has suggestions or would like to come to us [and] join hands for a noble cause," Minister Upadhyay declares. "The Nepal government doesn't think Lumbini is ours, we think it's an asset of the whole world."