In Thailand, British monk brings Buddhism to Westerners
BY MICHAEL Mathes, Lanka Daily News (AFP), Aug 3, 2005
Bangkok, Thailand -- THEY begin the morning at dawn clothed in white, but by mid-day the 25 Western men gathered at Thailand's largest temple wear the saffron robes of the Buddhist monk.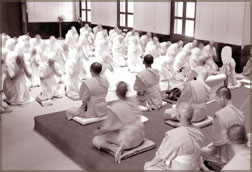 << A group of Americans and Europeans bow down during an ordination ceremony at Dhammakaya temple in the outskirts of Bangkok. (AFP)
With their heads shaved and concentration on their faces, they kneel in front of the abbot and other senior monks of Wat Dhammakaya to recite in ancient Pali some of the 227 precepts that will guide them through the next several weeks.
The ceremony in a traditional Thai temple is closely watched here; elderly Thai women in white robes sit on the matted floor with their backs to the temple walls, palms together in prayer, offering support to the novices about to embark on a religious journey to seek, in part, the meaning of mindfulness.
Most are undergoing a temporary, one-month ordination, but for some, the ritualistic donning of the orange robes represents a spiritual renewal that could last a lifetime.
"It is impossible to make progress without faith," an English voice tells them, translating the abbot's words moments before their ordination. "The first thing is to be able to overcome our bad habits, the character traits which we may have from the past."
The voice belongs to 40-year-old Nicholas Thanissaro, one of Thailand's best known "farang" (Western) monks and the temple's primary interlocutor for American and European Buddhist novices.
The only visible traces of his English identity are his light skin and the soft fullness of his facial features. With his head shaved and bearing the temperament of a senior religious figure, there is little to identify him as a foreigner.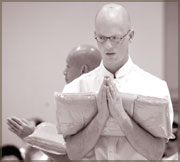 An unidentified Westerner watches chanting >>
while preparing for an ordination ceremony at Dhammakaya temple in the outskirts of Bangkok, Most monks are undergoing a temporary, one-month ordination, but for some, the ritualistic donning of the orange robes represents a spiritual renewal that could last a lifetime. (AFP)
Yet Phra (monk) Nicholas is among a growing number of Westerners putting on the robes in Thailand, keen on exploring the wisdom of Buddhist doctrine but also on embracing a deeper Eastern spirituality and meditation that they see is lacking back home.
"The general image of religion is getting worse in Western eyes," Phra Nicholas tells AFP, as he expounds on the hits organized faith has taken in recent years, particularly with the emotional touchstone that the US-led war in Iraq has become. Religion, he argues, frames a clash of civilizations.
"Religion is seen as a source of conflict, a source of wars, a source of people who don't have reasons for doing things. They follow blind faith.
"But Buddhism is seen as different," he continues. "It is a religion of wisdom, which encourages people to think, encourages people to believe in cause and effect."
'Religion turned me off'
Here in the serene 325-hectare (800-acre) temple complex outside Bangkok which is home to some 1,000 monks and a rapidly expanding and controversial Buddhist movement, Westerners have been encouraged to explore the dharma, re-evaluate priorities, question their role in life.
The ceremony is the third annual ordination of foreign monks at Wat Dhammakaya. In addition to the 25 Westerners, there are another 25 mainland Chinese and Taiwanese participating.
"In Thailand we have the tradition of temporary ordination. So people ordain, and they can draw on their purity of practice when they go back to their everyday life and use what they've learned."
Today's newest monks are the latest foreign men to be ordained in a kingdom that already has an estimated 300,000 local monks, about one for every 215 Thai citizens.
Like their Thai counterparts, most of the new recruits will join the monkhood for a month, then return to their lives as lawyers, stock analysts or engineers. Others, like Phra Nicholas, opt to stay for good.
"My aim was to ordain for life," Phra Nicholas says. "But for that you have to be fairly sure in your mind what you are doing."
Phra Nicholas was born Nicholas Woods and raised in Manchester, England, where he attended church schools as a boy. He read the bible "cover to cover" yet it failed to make an impression.
"The whole subject of religion turned me off, even as I had a whole lot of questions about spiritual issues," he says. "I had a fairly negative view of organized religion."
As a university student he began exploring religious and psychological issues more deeply, and he was routinely drawn to an overlapping element of both: meditation.
Woods studied and practiced meditation at a Buddhist society in Manchester in the 1980s, learning of Sri Lankan, Japanese, Vietnamese and Myanmar strains of Buddhism.
The Theravada school most common in Southeast Asia and Sri Lanka originated with the monastic community that first followed the Buddha. It tends towards conservative and cautious interpretation of its canon of scripture, which is considered Bhuddism's oldest surviving texts.
Phra Nicholas says: "What I liked about the Thai approach was that the teachings were very much based in daily life - they were speaking in practice and not just in theory," he explains. But many of his instructors were Westerners. He was seeking the source itself.
Completely different from my own culture
"I needed to get the feel of something completely different from my own culture."
Eventually Woods made his way to Thailand in 1988 to learn more. He taught English at a local school, but after visiting Wat Dhammakaya with some friends he experienced an ephiphany.
What he discovered at Wat Dhammakaya was a very active spiritual community that wasn't afraid to press its founder's guiding philosophy on outsiders, including foreigners.
Over the space of nine years he prepared for the monkhood by learning Thai and studying the precepts. He changed his last name when he became a monk eight years ago, and has worn the robes ever since.
'They need this in New York'
Today Phra Nicholas splits his time between Bangkok and Manchester, where he has set up educational courses and teaches meditation. He also arranged to teach a meditation class to Thais and foreigners at a fitness center in downtown Bangkok.
Hope Weiner, a 37-year-old American who works in Bangkok for the Red Cross, emerges from the class elated.
"It reminded me of Russian dolls, with all these little yous inside!" she tells the monk. "Damn, they need this in New York."
They have it in New York, or at least in the neighbouring state of New Jersey. Phra Nicholas has gradually become involved in the temple's international movement, and it now has more than two dozen chapters around the world, including in the United States, Britain, Belgium, and Japan.
Buddhism has thrived in the United States, where there are now over one million known Buddhists. It is particularly embraced today among white, upper-class Americans keen on exploring their own internal spirituality in a fast-paced world.
Many remain faithful to their Christian or Jewish faiths but adapt several elements of Buddhism, which is itself less a religion as a doctrine of principles by which to live one's life. Millions have taken up meditation and yoga.
"But I find it a little bit vain in the West," Weiner says. "I think they are looking for forgiveness in a way, from themselves.
"People take a pounding - 'you're not pretty enough, you're not good enough at work.' But when you come to (studies such as meditation and yoga), there is a beautiful sense of forgiveness, that you're all right the way you are."
Several farang monks being ordained at Wat Dhammakaya express similar ideas.
"I think some people have got to a point where they are saying, 'Well, we have a lot of the creature comforts here but something is missing'," says Aaron Stern, a Jewish American studying for a doctorate in political science but who is ordaining for a month at Wat Dhammakaya.
Like many of his fellow farang monks, Stern says Phra Nicholas has been the link between their Western mindset and the Buddhist principles.
"I think he's been fantastic. He puts things into terms much more familiar to those of us not raised in Thailand," Stern adds. "In that sense he's a great bridge."
'By giving to others, it comes back to them'
Wat Dhammakaya, considered by some to be a breakaway Buddhist order, has aroused suspicion ever since its following began to swell some 30 years ago.
The temple's founder, Luang Pu Wat Paknam, proclaimed he had re-discovered a lost path to enlightenment through intense meditation. The prospect of reaching nirvana proved a huge draw for thousands.
"All the knowledge that Buddha has, even that which is written in books, it comes from a very tiny spot within oneself, right about here," says one devout Thai follower, pushing an elegant finger into her torso just above her belly button.
Contributing to Dhammakaya's otherworldly aura, its logo - and indeed the temples themselves - are unnervingly similar in shape to a UFO. At lunchtime, hundreds of monks appear to be eating under a giant flying saucer some 100 metres (yards) in diameter.
Several temples dot the massive complex, including the Dhammakaya Hall, covering 16 hectares (40 acres) and which can hold services for nearly a quarter million people. Temple staff describe it as the largest public building in the world. Often it is nearly full, they say.
Critics say Dhammakaya is a huge money-spinner, with followers strongly encouraged to donate vast sums, including their homes or land, to the temple in order to accrue merit.
Six years ago the temple's abbot, Dhamachatyo, was accused of amassing a billion-dollar fortune and was charged with embezzlement.
An Englishman who now teaches at Dhammakaya says much of the temple's work has been misunderstood, with several other temples around the country expressing "jealousy" at its runaway success.
"They do a lot of good but never tell anyone," he says.
Phra Nicholas admits the earlier scandal's reverberations are still felt.
"As organizations grow, it's as if you come across a ceiling where, if you hit it, you're seen as a threat on a political level. In Thailand and perhaps in other countries, once you exceed that threshold you're put under a lot of scrutiny."
With most of the charges against the abbot now dropped, Dhammakaya can go about promoting its brand of Buddhism here and abroad, embracing modern technology to push its message through the Internet, its own satellite television station and multi-media.
"Dhammakaya is on the leading edge of Theravada Buddhism in that we aren't afraid of using modern technology. It's necessary if Buddhism is to remain relevant in the modern world."
He insists the temple is not proselytizing, but merely spreading its message of peace through meditation.
When asked directly if the temple solicits excessive donations from the faithful who may be eager to cast off their material excesses to gain merit, the farang monk turns philosophical.
"There are those who have become wealthy since" becoming Dhammakaya followers, Phra Nicholas says. "What goes around comes around. By giving to others, it comes back to them. This is a lot of the driving force for people to be generous."