Victims of rape at age 14, 9, 5...
Story by ANJIRA ASSAVANONDA, Bangkok Post, Oct 17, 2005
Abused kids come to accept their horrific ordeal as being normal
Bangkok, Thailand -- A recent brutal rape attempt that left a 14-year-old victim seriously injured shocked society, but she is by no means alone. The girl, a ninth grader from Sa Bot district of Lop Buri province, suffered not just physical wounds. Doctors say it will take a long time before she recovers from the mental trauma she suffered.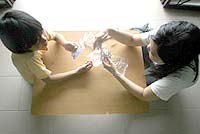 << Some child victims of physical and sexual abuse, at the Child Protection Foundation's reception home on Phutthamonthon 3 road
The suspect, Virat Rakseenil, 37, had been a neighbour, who knew the family well. He confessed to raping and trying to kill the girl because she could identify him.
Just a week before the crime, the media reported a story of a nine-year-old girl who had been repeatedly raped by her stepfather. The story came to light after a school teacher found the girl bleeding from the vagina, and took her to hospital where evidence of rape was found.
The girl told the police her stepfather would make her watch a pornographic video before raping her. Her mother, though knowing what happened, told her not to tell anyone or she would abandon her.
Social workers say a large number of girls have suffered a similar fate.
A social worker recalls a case in the northern province of Phayao which took place in 2000. It involved a five-year-old girl who was sexually abused by people around her - her grandfather, who took care of her after her parents divorced, her uncles and a senior monk in a temple which the girl visited and where she played with her older cousin.
The social worker said the girl liked to play at the temple as monks and temple-goers gave her food and toys.
One evening her aunt noticed the girl's private parts were red and swollen. She was taken to hospital, and the doctor concluded that she had been raped.
``When we interviewed her, the girl told us what the senior monk at the temple had done to her. But that's not all. She said her grandfather and uncles did the same thing.
``It seems like they saw her as a sex object with which they could do anything. What is worse is that the girl has become so familiar with sexual abuse that she thinks it is common, like eating rice.
``Once we had her draw pictures from her own imagination. What she drew was images of the penis in different sizes,'' she said.
After that, the social worker contacted the girl's mother, encouraging her to file complaints against the offenders. The mother did with reluctance because she did not want her own father to be punished. All except the monk were imprisoned. The grandfather eventually died in prison, while the uncles are still in jail. The monk, who faced the heaviest penalty of 81 years in jail, has appealed and has been free on bail until now. Since he is respected by people in the community, the monk still lives a normal life as if he did nothing wrong. His followers approach the girl's mother now and then with offers of money to drop the case. She has refused.
``The girl's family is poor and isolated. No one in the community seems to care for them,'' said the social worker, adding the case has never been exposed because the monk is respected and nobody wanted to have a problem with him or his influential followers.
After consulting colleagues, the social worker decided to send the girl to a state welfare home, since her mother and relatives were not ready to look after her. She has also undertaken rehabilitation and skill training.
A welfare official said family rape was not uncommon for girls sent to state welfare homes. Taweep Jamniean, director of Thanyaporn Reception Home for Girls, a state welfare home for child victims of physical and sexual abuse in Pathum Thani, recalled a day in August this year when he accepted a 14-year-old rape victim who was already two months pregnant.
Like many child victims, her parents were divorced. She had lived with her father until early this year when her mother, who had remarried, decided to take the girl into her custody. Since the mother was a night vendor, the girl was left at home with her stepfather, who sexually abused her. The girl kept her mouth shut because the stepfather threatened to kill her. It was until she became pregnant that her mother realised what had happened.
The mother filed a charge against her stepfather, and the girl was referred to the home. Due to her deep trauma, psychiatrists and social workers in charge allowed her to have an abortion. She is recovering from the mental wounds.
Mr Taweep said once she is ready to leave, the home would decide whether to send her back to her biological father or mother, or to other state welfare centres. ``These children are emotionally fragile and we need to be careful when dealing with them, from the first day they arrive to the day they are ready to return to the world outside.''