Villagers see amulets as tsunami shields
by WASSAYOS NGAMKHAM, Bangkok Post, Dec 23, 2005
Even foreigners ask for them when they come to the temple
Phuket, Thailand -- They might not be sophisticated or high-tech, but villagers are putting their faith in simple, hand-made amulets to shield them from the next killer tsunami.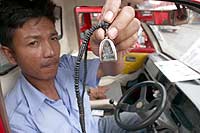 << Phuket minibus driver Manop Wookan, 31, shows his amulet which he believes will ensure his safety while driving tourists to Patong beach at night or to out-of-the-way spots. — SAROT MEKSOPHAWANNAKUL
Buddhist amulets and other charms, including sacred white threads, have become must-have defences for many Phangnga and Phuket residents, who wear them in the hope that these sacred objects will protect them from killer waves.
Beach resorts and villages in the two provinces were flattened by a tsunami on Dec 26 and thousands died. The nightmare still haunts residents.
"Those villagers don't fear ghosts, but they come asking for charms and Buddhist amulets from me," said Wiboon Wetchakij, a 73-year-old monk who specialises in ancient magic.
Phrakru Wiboon, locally known as Luang Phor Pring, is an abbot at Wat Lak Kaen in Phangnga's Tai Muang district. The temple was used as a morgue where thousands of tsunami victims' bodies were kept for post-mortem and identification.
The work at the wat was frightening to locals and provoked the sightings of many spirits. Now that the work has ended, their fears have been replaced by the chilling spectre of another tsunami.
The villagers come to the temple to ask for Buddhist amulets and charms because they believe such items saved many lives in the tsunami, the monk said.
"Even foreigners ask for them when they come to make merit at the temple," he said. They often seek sacred whips, used to protect users against evil spirits.
Surachet Pankham, 47, who works in Phuket, believes he was saved from the tsunami because he wore three Buddhist amulets, while Phangnga resort owner Parichard Sae-lee, 38, said she and her family were also saved by a charm that she always had it with her.
Ms Parichard's resort is on Ko Kho Khao. When the tsunami struck this tiny island she fled to high ground, leaving her resort at the mercy of the waves.
She returned to the island last month and stayed overnight for the first time since the tsunami. Every sound that night made her wonder if the ruthless waves were returning.
But Pracharath Phucharoen, 28, a driver who takes Phuket tourists to beach resorts, said people should not be too frightened of tsunamis. He said he is more afraid of what the sharp decrease in tourists will do to his income.
A tourist couple who survived the Dec 26 tsunami said they saw no need to wear charms because they did not believe in spirits. Such beliefs would just hurt tourism, they said.
"Phi Phi islands have come back to normal. There are resorts, trees, a mini-mart and many foreign tourists. The only difference is there are few Thai tourists," said Kanokphorn Chansirisri, who survived the tsunami with her lover.
The government spent 38 million baht to install tsunami warning towers in six southern provinces. The tower alarm sirens can be heard within a 1km radius to warn people of the coming threat.
The system seemed to function well last week when sirens went off in the six coastal provinces, sending panicked residents running for their lives to higher ground.
But there were no dangerous waves approaching.
National Disaster Warning Centre director Plodprasop Suraswadi later apologised for the mistake, saying a technician pressed the wrong button.