Buddhist monk promotes peace and inter-faith dialogue
by Weena Kowitwanij, AsiaNews.it, Jan 2, 2006
Bangkok, Thailand -- In a meeting with Thai youth, the monk Phrathamkosajarn talked about peace, understanding and sustainable development: "I believe that religious doctrine has a significant role to play in promoting sustainable development and peace in society."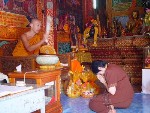 << Phrathamkosajarn
"The true key to building authentic peace, friendship and understanding is mutual respect", said Phrathamkosajarn. The Buddhist monk, who is Dean of Maha Chulalongkorn Buddhist Academy, was speaking during a meeting for Thai youth on the theme, "How to use Buddhist teaching to develop the society in order to have a sustainable society."
Phrathamkosajarn talked about "Dhamma", the Buddhist doctrine that should be used to foster peace and harmony among people of different races, culture and religion. He also referred to "Dhammathipatai", a word made by combining "Dhamma" and "democracy".
"I firmly believe that religious doctrines have a remarkable role to play in creating sustainable development, and to contribute to the peace and well being of society," he said. "All must be protagonists in society and each one should be responsible for his actions."
Phrathamkosajarn continued to say that "it is not enough for the faithful to know their religious doctrine well; on the contrary, it is important to know the core of other religions so as to prevent controversy among people living together in the same community." He also underlined the importance of avoiding violence to resolve problems. "Clashes arise from the egotism of those who are incapable of listening to the ideas of others".
At the end of his intervention, Phrathamkosajarn referred to the United Nations General Assembly: "The world's most important religions – Buddhism, Islam, Hindu and Christianity – should unite in prayer so that the hope of the General Assembly, that the 21st century will be the century of peace and sustainable development, will come true."