Thai PM Not Buddhist Enough Say Critics
by Marwaan Macan-Markar, IPS, Feb 7, 2006
BANGKOK , Thailand -- He may have enough votes to back his claim to be the legitimately elected head of government, but beleaguered Thai Prime Miniser Thaksin Shinawatra is now being charged by his critics with lacking in qualities that befit a Buddhist leader.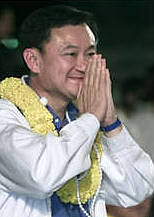 << Thai Prime Minister Thaksin Shinawatra: Not Buddhist enough?
Days after one of the largest anti-government rallies witnessed in the Thai capital in over a decade, this line of argument -- that Thaksin has lost his legitimacy from a Buddhist point of view -- is gaining currency and being offered as a reason behind the swelling anti-Thaksin rage.
Thai leaders are ''expected to uphold Buddhist values,'' Somkiat Tangkitvanich, a leading economist at the Thailand Development Research Institute, a respected think tank, said at a seminar here on Tuesday. ''Without these values, the leader loses legitimacy.''
Among the 10 principles Buddhists expect their leaders to uphold are a commitment to charity and generosity, high moral character, self-sacrifice, honesty, kindness, austerity and non-violence.
But a billion dollar business deal that Thaksin's family has profited from, and his reaction to his critics since then, has eroded any claims the prime minister can make to living up to these Buddhist ideals, Somkiat said. ''These beliefs are deep rooted in Thai Buddhism.''
''Businessmen and those in political power should have greater social responsibility,'' Suchit Bungbongkarn, a former judge on Thailand's Constitutional Court, said at the same seminar held at Bangkok's Chulalongkorn University. ''They have to raise the moral standards in their decisions.''
Typical of those venting their anger against Thaksin is 70-year-old Jaruit Jaruprakorn, who was among the estimated 40,000 people who gathered Saturday evening at Bangkok's spacious Royal Plaza to boo, jeer and chant for Thaksin's resignation.
''He took all what he can from the country; we cannot stand it any longer,'' a visibly angry Jaruit said while standing in front of a sea of heads sporting the yellow caps and bandanas that have come to symbolise the colours of the anti-Thaksin crusade. ''Throw Thaksin out. That is why I am here.''
Even in cyberspace there is a similar emotional register, with Thais leaving caustic messages on popular web boards. ''PM Thaksin is doing everything to cheat the country in order to make his family and himself richer,'' wrote one Thai under the name 'Kaze no Raizen' on the 'Pantip.com' web site.
Thailand's 64 million people are predominantly Buddhist, and the curriculum in schools offer a steady dose of lessons about the character and qualities expected of individuals who have to lead the country according to Buddhist precepts. Narratives of monarchs who have ruled the country in a righetous manner since the 14th century also help underpin this belief.
The financial deal that has riled many Thais, at least in Bangkok, is a Jan. 23 transaction where Shin Corp., the telecommunication giant owned by the Thaksin family, was sold for 1.88 billion US dollars to a Singapore company, with no taxes paid.
Thaksin, who founded Shin Corp. and had become a billionaire tycoon before he took over the reins as prime minister, dismissed his critics of being jealous of his family's financial windfall.
''That is not a reaction one expects of a Buddhist leader. He is gloating about making himself and his family richer rather than trying to help others,'' Sulak Sivarksa, a respected activist and commentator on the Buddhist way of life in Thailand, told IPS. ''It shows he has not grasped the 10 principles of virtue.''
By choosing to ignore this religious challenge to his legitimacy, Thaksin is revealing that he is out of touch with his country's cultural currents or he does not want to be held accountable by these values, say people like Kasit Piromya, Thailand's former ambassador to the United States.
''He is making things worse for himself and proving that he is not interested in the Buddhist way of life,'' Kasit told IPS. ''He cannot just talk about the votes he got at the election and ignore the need to lead the country in a moral way.''
Thaskin's Thai Rak Thai (Thais Love Thai or TRT) party secured an unprecedented mandate in February last year when it was re-elected to power for a second term by some 19 million voters. The TRT currently has 376 seats in the 500-member legislature.
Such a mandate, following an equally comfortable majority during the previous term beginning in January 2001, has enabled Thaksin to ignore a steady stream of accusations about his autocratic tendencies and accusations that he was shaping government policy to feather his own nest.
But Thaksin has only to look at a campaign against one of Thailand's leading beverage companies to realise that a public drive to uphold Buddhist values can wreak much damage.
Since February last year, the highly profitable company that sells the popular 'Chang' brand of beer has been prevented from selling in the Thai stock market due to demonstrations against it led by Buddhist monks that have brought thousands of protestors on to Bangkok's streets.