Thailand: Santi Asoke leader faces complaint
by AMPA SANTIMATANEDOL, Bangkok Post, March 9, 2006
Bangkok, Thailand -- Representatives of a group of people calling themselves the Buddhist Network yesterday filed a police complaint against Santi Asoke sect leader Samana Photirak for imitating a Buddhist monk. Samana Photirak leads the sect whose supporters are in the front lines of the protests against caretaker Prime Minister Thaksin Shinawatra.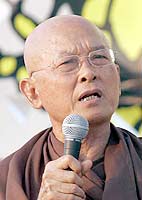 << Samana Photirak: No support for Thaksin
''Samana Photirak and Santi Asoke followers behaved in total contradiction to Buddhist precepts by camping at Sanam Luang and expressing political opinions,'' Sathien Wiphonmaha told police.
Around 1,000 followers of Santi Asoke, a highly-disciplined Buddhist sect, recently joined the mass rallies against Mr Thaksin under the name ''Dharma Army'', with Maj-Gen Chamlong Srimuang as their leader.
''Samana Photirak goes about receiving alms from people like monks do and uses the pronoun 'atama' to address himself, which is reserved for Buddhist monks only,'' Mr Sathien said.
Mr Sathien yesterday asked the Chana Songkhram police to press criminal charges against Samana Photirak. If found guilty, he is liable to a one-year jail term or a fine of up to 2,000 baht.
Samana Photirak and his Santi Asoke members were purged by the Sangha Council in 1989 on charges of tampering with the Buddha's teachings.
The Supreme Court in 1998 also imposed a 54-month suspended jail term on him after he was found guilty of dressing as a monk and ordaining others without permission.
''I have changed the colour of my robe and stopped shaving my eyebrows. So, I don't have anything more to say and it's up to them if they still view me as a monk impersonator,'' Samana Photirak told the Bangkok Post yesterday.