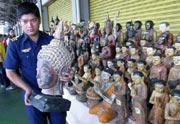 << A customs officer at Bangkok's Lat Krabang customs checkpoint carries a Buddha image, one of over 100 such artefacts seized from a container bound for the United States.
Makkasan railway police officers and Bangkok customs officers broke open a container carrying the artefacts belonging to 45-year old Jack David Porter, said Customs Department director-general Sathit Limpongpan.
Inside the container, officers found 58 Buddha images, two Buddha head images, 63 images of Buddha's great disciples, 14 images of Thai traditional guardian angels, three sacred bookcases and a bag of holy beads, which were hidden among furniture and home decoration items, Sathit said.
The investigation found that the items - allegedly bought from the North and Bangkok by Porter - were falsely declared as jewellery boxes, lamps and dolls that were to be transported by ship to the US.
Sathit said an initial examination by the Fine Arts Department showed the items were authentic, adding that ancient Buddha images - be they authentic or copies - were prohibited from being exported without permission from the Fine Arts Department.
Since the items were wrongfully declared, authorities had seized all the property, said Sathit, adding that the items were priceless.
Smuggling prohibited items out of Thailand is punishable with a fine worth four times the item's value, or up to 10 years in jail.