Ancient Thai temples under flood threat
Bangkok Post, Oct 16, 2006
Bangkok, Thailand -- Flood barriers have become nearly as common as temples in the central plains provinces of Thailand in efforts to hold back an overflowing Chao Phraya River.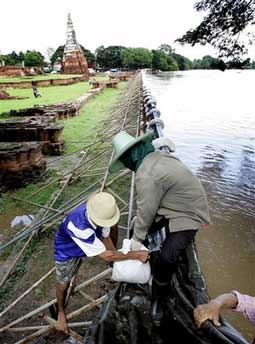 << Workers load sandbags to fix the hole of a water barrier built to prevent water from the Chaophraya river, right, to enter the historic area in Ayutthaya province, central Thailand (AP Photo/Apichart Weerawong)
Throughout the rice-growing region, more than 100 temples have been damaged and some submerged, the government reported. Food and drinking water have been taken to monks marooned at some of the temples.
Many of the temples, some of them UNESCO World Heritage sites, are protected by sandbag barriers with pumps running around the clock.
In Nakhon Sawan, 210 kilometres north of Bangkok, civilians joined government authorities Monday to try to contain the rain-induced flooding.
The Fine Arts Department, which is responsible for preserving Thailand's historical sites, mobilized efforts to drain water from the temple Wat Koh-hong and its historically important main chapel, which the department finished restoring earlier this year.
On Wednesday, the Chao Phraya in Nakhon Sawan province hit its highest level in the 60 years that records have been kept, and even though the water level has fallen since then, it remained high enough to flood much of the area.
Soldiers in Ayutthaya, the capital of Siam from 1350 to 1767 and home to temple and palace ruins designated as a UNESCO World Heritage site, increased the height of sandbag barriers Monday around some of the historic temples 90 kilometres north of Bangkok.
The Chao Phraya which drains most of northern and central Thailand has hit record highs from the run-off of heavy rains in the north of the country over the past couple of months. The situation has been compounded by heavy rains in the central plains this month.
The Royal Irrigation Department has begun diverting floodwaters from the Chao Phraya into 223,000 hectares of farmland in central provinces to save Bangkok from flooding.
Samart Chokanapitak, director general of the department, said dykes have been built in Bangkok to hold back the high water but he feared some of them in the provinces just north of Bangkok were not strong enough and some communities could be submerged.
It's already too late in some areas, including Suphan Buri province, 110 kilometres northwest of Bangkok, where several famous temples were submerged when the Tajeen River overflowed its banks.