Monastic dispute turning unholy
The Nation, Nov 8, 2006
Infighting among Buddhist factions is what prevents badly needed religious reform from taking place
Bangkok, Thailand -- The long-running controversy over whether the Supreme Patriarch, His Holiness Somdet Phra Yanasamvara Suvaddhana Mahathera, at 93, is physically and mentally well enough to discharge his duties has baffled most Buddhists in Thailand.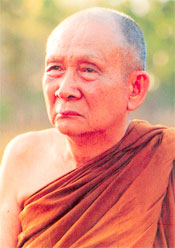 << Supreme Patriarch, His Holiness Somdet Phra Yanasamvara Suvaddhana Mahathera
So too has the question: If not the ailing Supreme Patriarch, who among senior Buddhist monastic leaders should be appointed to work on behalf of the country's main philosophy and religion? Ordinary Buddhists see little point in the wrangling by opposing factions of Buddhist monks and their lay followers over such a matter, which they see as just a practical arrangement.
They may well be right. The highly politicised quarrelling could turn out to be a smokescreen for a more sinister power struggle between two rival sects in Thailand's Theravada Buddhist establishment: Maha Nikaya and Thammayutti Nikaya. Or it could be seen as a contest between reformists and those fighting to maintain the status quo.
One Buddhist faction rejects the opinion of medical experts, claiming that the Supreme Patriarch is healthy enough to perform his duties unaided. They have been insinuating there is a "conspiracy theory" of "ill-intentioned people" seeking to undermine the office of the Supreme Patriarch. The other faction insists that the second-highest ranking monk, Somdet Phra Phutthajarn of Wat Saket, who has been caretaker Supreme Patriarch since July 15, 2004, should continue in his current capacity.
But most Buddhists believe the priority must be on keeping both the office of the Supreme Patriarch and the Sangha Supreme Council - the governing body of Buddhist monks in Thailand - functioning smoothly. Instead of engaging in this rather senseless infighting, activists on both sides, who claim to have the best interest of Buddhism in mind, should concentrate on more pressing problems that are waiting to be discussed and resolved. These include widespread corruption among Buddhist monks and lay administrators of temples. Such issues contribute to a perceived decline in Buddhism and also raise questions about its continued relevance over the longer term.
With corruption so pervasive among monks and lay administrators, and the Sangha Supreme Council beset by incessant infighting, ordinary Buddhists have been frustrated by the lack of progress in the reform initiatives put forward by the Sangha Act amended in 2004. Measures designed to reorganise the Buddhist monastic order to bring Buddhism up to date with rapid social and economic changes, to strengthen its moral authority and to purge corrupt elements from the religious community remain largely unimplemented.
Most disappointingly, only a handful of Buddhist temples have cooperated with the new rules requiring Buddhist temples to conform to sound governance. Even the most rudimentary requirements for abbots and lay administrators to accurately list monastic assets and to keep records of donations and expenses are generally ignored.
For as long as anyone can remember, the business of running Buddhist temples has been entrusted to abbots, who exercise their discretionary powers with the support of committees of lay people who are respected members of the community. This traditional system has worked well in the past, because temples used to serve as community centres, and people used to be more involved in religious affairs.
All this has changed. Even committed Buddhists no longer feel in any way responsible for temples, except maybe to show up to participate occasionally in religious rites, make merit and give donations. Few temples among the tens of thousands around the country are smoothly run or conform to good governance. The huge amount of money donated by the faithful is not always handled by honest custodians.
The problem of temples being badly run and nurturing corruption has been allowed to fester for too long. So much so that we cannot avoid daily reports in the media about Buddhist monks caught amassing great wealth, or becoming entangled in sex scandals. This is not to mention the great many temples of worship that have been turned into dens of iniquity with monks predicting winning lottery numbers and offering amulets for sale in exchange for donations which they pocket.
The future of Buddhism and its continued relevance to Thai society depends on how successfully Thailand's brand of Buddhism can be brought back to the true, essential core of Buddhist values. The time for Buddhist reform is now.