Refugee Buddhist villagers at Yala temple suffering from stress
TNA, Nov 13, 2006
YALA, Thailand -- Doctors have visited some 200 villagers who have fled their homes in two districts of this troubled southern province on fears of attacks by southern insurgents and are now taking a temporary shelter at a Buddhist temple have found that a number of them are suffering from stress.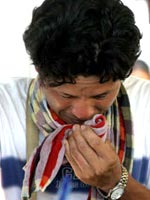 << A Yala villager weeps as he recounts an insurgent attack that killed his wife and her father
Accompanied by officials and a team of medical doctors staff, Public Health Ministry permanent secretary Dr. Prat Boonyawongwirot visited the rural villagers who have taken shelter at Yala's Wat Nirotsangkharam to give moral support and distributed medicines and food to them.
A hospital here arranged a mobile medical unit to provide health check-ups for the villagers and found that many are suffering from stress.
The rural ethnic-Thai Buddhist villagers left their homes in Bannang Sata and Than To districts last week following a series of attacks on local residents in the area.
The overall situation at the temple is also quite hectic as 33 children accompanying their parents to the temple will be using the monks' living quarters as temporary classrooms. Classes were to be offered beginning Monday (Nov 13) with regular teachers teaching key subjects along with games to relieve their stress.
HRH Crown Prince Maha Vajiralongkorn, who visited wounded victims at a hospital in nearby Pattani province on Sunday, is scheduled to visit the villagers at the temple today, according to the report.
The government's conciliation campaign to end the southern violence is moving ahead, having been offered in sincerity and accompanied by positive action. The policy appears to have been largely understood, in the three provinces.