Buddhist monks help UK addicts beat habit
Sunday Herald, Dec 4, 2006
Bangkok, Thailand -- IT MAY not be rehab as we might imagine it, but thousands of addicts have healed themselves with projectile vomiting sessions in this Thai monastery since the Buddha appeared in a vision before the abbot of Thamkrabok in 1959.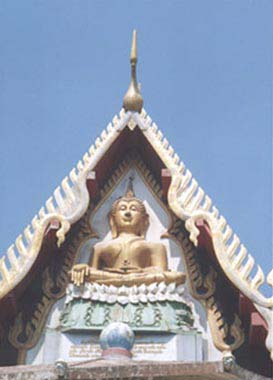 << Thamkrabok monsatery in Thailand is famous for its drug detox center
Drunks from Thailand's underworld, heroin-addicted Vietnam veterans and Laotian refugees from the Golden Triangle trying to get off opium have all journeyed to the monastery set in jagged limestone mountains 140km north of Bangkok to battle their demons.
For years British addicts, many in the final stages of desperation, have also been found among its temples, golden pagodas and giant concrete Buddhas. Troubled pop star Pete Doherty checked in amid a blaze of publicity, then checked out uncured after a few days of vomiting and spartan living conditions.
Now the monastery's tattooed healer-monks are starting to treat a new type of addict - NHS patients. Advocates believe Thailand's most famous monastery offers a more effective cure than anything available in British clinics, and at a cheaper price.
Thamkrabok has treated more than 100,000 addicts since its abbot was instructed in a dream to cure opium smokers with a foul-tasting brown fluid that would force them to expel their body's poisons in dramatic style. The potion is still made to a secret formula from 108 herbs grown in the monastery gardens.
Patients must renounce their addiction in a sacred vow before undergoing the protracted vomiting cure. Many then stay for months, meditating, chanting and taking herbal steam baths.
Mike Sarson, from East-West Detox in Reading, has sent hundreds of addicts to Thailand and arranged trips for a dozen NHS patients in the last three years. He is trying to persuade a sceptical medical establishment to send more. He claims it costs the taxpayer around £4000 to send a patient and a social worker for a month, about a third of the price of conventional NHS treatment.
The monastery claims a cure rate of about 80%, substantially higher than conventional treatments.
Sarson said: "It's not for everyone but it seems to work for those who choose it. The monastery is a pleasant place to be, whereas most detox centres in Britain are situated in psychiatric hospitals, from which people often discharge themselves before their treatment is finished."
Steve West, a drug addict for 35 years, finally kicked his crack cocaine habit there this year after trying several rehabilitation centres in the UK.
He said: "It was daunting at first, but I think it was the only thing that was ever going to work for me. Now I'm trying to persuade my partner to give the treatment a try."
His treatment was paid for with NHS money by the West Berkshire Drug and Alcohol Action Team, although the team manager Susan Powell said there were no plans to send more NHS patients at the moment.
Mike Sarson believes many drug counsellors in the UK are enthusiastic about Thamkrabok but are prevented from sending more patients because of NHS bureaucracy which baulks at the potion's secret formula and the monastery's spirituality.
The centrepiece of the cure, the public projectile vomiting sessions, are well-known in Thailand and coachloads of curious tourists often stop to watch.
Patients drink the secret brown potion and gallons of water before vomiting profusely into a stream running through a courtyard. Cured patients in red robes chant and sing to give them moral support.
The treatment, which is free, is overseen by monks who are themselves former addicts. Many are heavily tattooed with blue dragons from their days as Bangkok gangsters.
The monastery has played an important role in helping victims of Thailand's latest drugs blight - amphetamines called yaa-baa, or crazy drug. Opium, a drug which makes its users sleepy and lazy, is now seen as an old man's indulgence. Yaa-baa, which makes its users violent and paranoid, has fuelled crime among the young and enriched the criminals who make it in factories across the border in Burma.
Westerners have also renounced home for a new life at the monastery. Brother Greg, a former heroin addict from Reading, said: "Vomiting flushes all the toxins out of your system, and although it's not very enjoyable at the time, you feel good afterwards.
"I was a junkie for 20 years and nothing worked in the UK for me although I must have had a small fortune spent on me for methadone and other treatments. But I came here and I was better in a few weeks."