United Nations endorses Thai Buddhist Economic model
by Kalinga Seneviratne, Lanka Daily News, March 20, 2007
SUFFICIENCY ECONOMY: In the last two decades, Buddhism's appeal has grown in the West, drawing people seeking a calm not found in the fast-paced world of Internet-driven commerce and communications.
Bangkok, Thailand -- While Bhavana (Buddhist meditation), has become a form of modern psychotherapy and influenced Western lifestyles, is there anything in the religion's 2500 year old teachings, which could influence modern economics?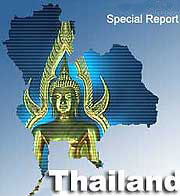 According to Thailand's much revered King and lately members of the (new military installed) government and a growing number of economists and grassroots development activists, the answer is, yes, there is. They call it 'Sufficiency Economics', a term coined by King Bhumibol Adulyadej in the midst of Thailand's economic meltdown in 1997.
It embraces the three pillars of Buddhism - dana (giving), sila (morality) and bhavana (meditation) - and is based on the Buddhist principle of the 'Middle Path', that is avoidance of extremes (of greed).
The Thais have recently got a strong endorsement of this Buddhist development strategy from the United Nation's main development agency. In a report released in January, the United Nations Development Programme (UNDP) hailed Thailand's new "Middle Path" development model as a key to fighting poverty, coping with economic risk and promoting corporate social responsibility.
The UNDP's 'Thailand Human Development Report 2007: Sufficiency Economy and Human Development', a result of a year-long collaboration between Thai and international experts, is designed to bring Sufficiency Economic thinking to a wider international audience.
UNDP describes 'Sufficiency Economics' as a set of tools and principles that help communities, corporations and governments to manage globalisation - maximising its benefits and minimising its costs - by making wise decisions that promote sustainable development, equity, and resilience against shocks. Thus, the report says that the 'Sufficiency Economy' is a much needed "survival strategy" in a world of economic uncertainty and environmental threats.
"We believe that Sufficiency Economy principles are applicable around the world, especially for rapidly-developing countries that are experiencing some of the same pressures as Thailand" said Joana Merlin-Scholtes, UNDP's Resident Representative in Thailand.
This model may perhaps offer some insights on how to tackle some of Sri Lanka's own economic woes and development problems UNDP report goes on to explain what Sufficiency Economics means in practice.
For communities, Sufficiency Economics principles are fundamental to empowerment and building resilience, such as setting up savings groups, revolving credit lines, and local safety nets. For private business it means, "taking corporate responsibility to the next level" by using this approach as a guide to management and planning.
"This approach encourages them to focus on sustainable profit, to adhere to an ethical approach to business, to pay special attention to their employees, to respect nature, to have careful risk management, and to grow where possible from internal resources" the report explains.
And for the third pillar, the governments, the Sufficiency Economy is central to alleviating poverty, promoting good governance, and guiding macroeconomic policies to immunise against shocks.
UNDP believes that Sufficiency Economics is a naturally ally of human development, but it also offers two additional elements - placing greater emphasis on mental and spiritual development, and offers guidance on how to make decisions that will achieve sustainability, well-being and happiness.
Thailand plans to write into the preamble of the interim constitution that is being written right now the principles of Sufficiency Economics. The official Thai definition of the economic model drawn up in 1999 describes it as "an approach to life and conduct applicable at every level from the individual through the family and community to the management and development of the nation".
Dr. Sumet Tantivejkul, former chief of Thailand's National Economic and Social Development Board (NESDB) and currently the secretary-general of the Chaipattana Foundation under royal patronage, argues that it is not correct to suggest that Sufficiency Economics was suitable only for the poor and grassroots communities, while everyone else follows the Western capitalist and consumerist economic model.
Citing the unrelenting growth of the world's population and global competition for natural and other resources, to match growth in consumption, which has already outgrown Mother Nature's capacity to replenish by a ratio of 3:1, he argues the mainstream economic model could only lead us to disaster and conflict.
Dr. Sumet points out that only 4 percent of the benefits of Thailand's decades long economic growth (until 1997) has trickled down to the country's poor who constitute 60 per cent of the population, while Thailand's middle class women are renowned for being world-class shoppers - second only to those from Hong Kong - for spending as much as US$ 1000 on designer-labelled handbag when they go shopping abroad.
Dr. Sumet argues that Sufficiency Economics is what Western economists call 'risk management' and the Thai model sees this path as one which develops an economic policy on moderation, rationale and immunity. He cites the revival of the Siam Cement Group, which is Thailand's largest company, as a good example of how Sufficiency Economics could be applied to risk management.
When the 1997 economic crisis hit Thailand, Siam Cement had over 200 subsidiaries and was saddled with an unprecedented huge foreign exchange debt due to the currency depreciation, and was on the brink of collapse. "The crisis exposed the perils of its excessive growth.
It was monolith - way too big and too fat" noted Dr Sumet. "After several years of drastic restructuring and selling of its non-core assets, the group, now with only about 100 subsidiaries, has returned to health. It has just reported its highest profits in 35 years".
NESDB's secretary-general Ampon Kittiampon argues that Thailand does not need high economic growth for sustainable development, all it needs is about 4 percent growth rate that can absorb new entrants to the job market.
He criticises the deposed government of Prime Minister Thaksin Shinawatra (one of Thailand's wealthiest businessmen) for using public spending to increase consumption and hence growth, and also for using government investments for helping his business cronies.
Raising ethical standards for economic management and getting rid of conflicts of interest and introduce transparency are also part and parcel of Sufficiency Economics argues Ampon.
Thailand's current push for a Sufficiency Economics development path really began in 1999 when many of Thailand's top economists gathered to discus the King's thinking on the economy to get the country back on its feet.
They concluded that the country had clearly ignored moderation by indulging in over-consumption, which reduced the volume and savings and increased the reliance on foreign debt. Thus, Thailand needed a degree of self-reliance because they could not predict the shocks of the globalised era. However, the then Prime Minister Thaksin did not agree with such economics, which created much friction between the Palace and the Prime Minister.
The UNDP report gives many examples of how the Sufficiency Economy model has been implemented in many parts of Thailand, encouraged by models set up under royal patronage across the country.
One such example is of Chumphon Cabana resort, which shows that, the benefits of the 'Sufficiency' approach is not just confined to the agriculture sector. In the crisis of 1997, this resort on the east coast of the peninsula suffered financial difficulties like so many other businesses. In the desperate attempt to stay afloat, the owner took inspiration from the Sufficiency approach.
As a start, she began to plant rice, vegetables, flowers and fruit trees on land within the resort project. To improve the sandy land without the cost of chemicals, she experimented with making organic fertilizer from hotel waste and other materials.
She planted a local variety of rice and installed a rice mill. The husk was used in making the fertilizer and for animal feed. As the resort's land was not enough to supply all its needs, she got the cooperation of surrounding villages to supply the deficit, and also helped train them in making fertilizer and other practices of organic farming. The employees of the resort were especially encouraged to participate.
Next she invented a just-in-time system of supply by posting the following day's requirements of various articles on the local school's notice board. Local production expanded beyond food to include various cleaning materials made from local materials.
As production increased, these articles were also supplied to other resorts in the area. The resort benefited from low production costs and reliable supplies. Surrounding farmers had a secure market and good prices because there were no middlemen.
Soon the resort gained a reputation with the result that other resort owners, farmers, NGOs, and government officials came to learn - which gave the employees a sense of pride. As the owner concluded, "I think this is a kind of development which makes everybody happy."
In a 1998 statement on the essence of the Sufficiency Economics model, King Bhumibol said: "Sufficiency is moderation. If one is moderate in one's desires, one will have less craving. If one has less craving, one will take less advantage of others. If all nations hold to this concept, without being extreme or insatiable in one's desires, the world will be a happier place".