Buddhists rally in southern Thailand
AFP/de, March 27, 2007
YALA, Thailand -- Some 1,000 Buddhists rallied in Thailand's Muslim-majority south on Monday, urging the government to do more to halt what they fear could become a sectarian conflict.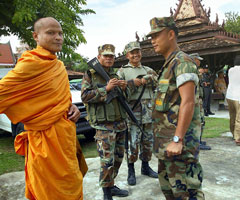 << A Buddhist Monk chats with Thai soldiers standing guard at a temple in Tak Bai, southern Thailand.
The rally took place outside city hall in the town of Saba Yoi in Songkhla province, where three students were killed on March 17 in a shooting attack on an Islamic school.
Some Muslim residents of the district have blamed the attack on security forces - the school is located near an army ranger base - and have called on the government to withdraw the rangers from the district.
The district chief, Treecha Damkeungkiert, said the Buddhists rallied to urge the government not to withdraw their forces for fear of creating a security vacuum in the area.
"About 1,000 Buddhists attended the rally at the Saba Yoi city hall. It lasted about three hours, and they submitted a letter demanding that the rangers stay in the district," Treecha said.
"The Buddhists are worried that if the rangers move out, they would not be safe," he added.
The letter said that if possible, the government should deploy more forces to the area to help keep the peace, according to Treecha.
It also said civilians should be allowed to carry arms for self-defence, and urged the government to provide more weapons for the district's volunteer defence militia.
The shooting at the Islamic school worsened the already steep tensions in the region following a series of grisly attacks this month, including a massacre of nine Buddhists and a bomb attack on a mosque.
More than 2,000 people have been killed since separatist violence erupted three years ago in Thailand's Muslim-majority provinces along the southern border with Malaysia.
Army officials and analysts have warned that the insurgency shows the increasing influence of Islamic extremism, amid growing fears among Buddhists that they are being singled out for attack.