Thais kick off Buddhist new year amid tight security
AFP/ch, April 13, 2007
BANGKOK, Thailand -- Thailand was set to begin its raucous celebrations for the Buddhist new year on Friday, amid heightened security over fears that the festivities could be the target of yet another terror attack.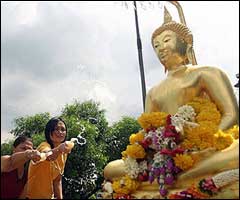 << Women sprinkle water on a Buddha statue
The five-day holiday, known here as Songkran, will draw crowds into Bangkok's streets for parties and free-for-all water fights, while others will file through Buddhist temples for sombre ceremonies around the country.
The water is supposed to be a symbol of cleansing for the start of the new year, but there are already worries that the water-flinging fun could be soiled after a small bomb exploded late Monday in front of a Bangkok shopping centre.
An extra 40,000 police will be deployed around the country throughout the holiday, with a special focus on crowded areas in Bangkok and other tourist hotspots, police Major General Ronnarong Yangyeun said.
The interior ministry also said it had dispatched extra spies in hopes of thwarting any possible attack.
Army officials have for months warned of possible attacks during the holiday, following deadly bomb blasts in Bangkok on New Year's Eve and coordinated attacks in the Muslim south during the Lunar New Year in February.
"There seems to be a trend that during festivals there could be some unrest," security analyst Panitan Wattanayagorn said.
"There is a different environment in Bangkok. A new front has opened, and people have to get used to that."
Police have so far failed to make any arrests linked to the New Year's blasts that killed three and injured dozens, including foreign tourists, in nine explosions around the capital.
Authorities initially ruled out any link to a separatist insurgency in Thailand's Muslim-majority south, but later conceded that Islamic militants may have been involved.
The Bangkok blasts were followed by a coordinated arson and bombing spree across the Muslim south at the start of the Lunar New Year in February.
The incidents left nine dead and 44 injured and were blamed on Islamic separatists.
"There is now a definite pattern," said John Harrison, a terrorism researcher at Nanyang Technological University in Singapore.
"Any holiday is going to need higher security," he said.
Foreign embassies have urged their citizens to take extra precautions during the holiday, but those warnings didn't appear to dampen the enthusiasm on Bangkok's Khao San Road, where some of the biggest Songkran celebrations will take place.
"I heard about the attacks, but it didn't put me off coming," said Adam Braveman, 24, from New York.
Fiona Cardow, 27, a Scot who now lives in New Zealand, said she wasn't even aware that there had been attacks.
"When you go on holiday you kind of block out the real world issues from your head," she said.
"I do not think it would've put me off coming here though. You take a risk every time you travel, especially if you travel in southeast Asia."
Police were visibly present patrolling the street, but despite a degree of concern, shopkeepers were for the most part positive.
Sita Rama, shop assistant at Canoe Master Tailor, said: "I'm worried but what can we do? There are a lot of police here, and hopefully that will help."