Thailand: Constitution contains no state religion
By Penchan Charoensuthipan, Bangkok Post, April 18, 2007
Bangkok, Thailand -- As a Buddhist, Constitution Drafting Committee (CDC) chairman Prasong Soonsiri said he wants Buddhism to flourish, but it was not important to include such a declaration in the constitution.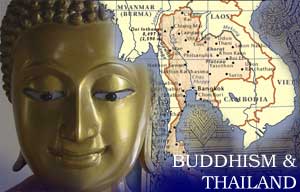 Sqn-Ldr Prasong has shrugged off the call for Buddhism to be declared the official national religion in the new charter.
What matters most is for Buddhists to try to understand and act in compliance with the Lord Buddha's teachings.
The question whether Buddhism should be proclaimed the national religion is beside the point, Sqn-Ldr Prasong said.
Whether Buddhism will progress or decline depends on the ability of its followers, both laymen and monks, to maintain the religion, he said.
He was responding to a group of Buddhist advocates who yesterday presented a letter calling for Buddhism to be declared the national religion. The group was led by Phra Thepvisutthikavi of the Buddhism Protection Centre of Thailand.
"There are two things that Buddhists should concern themselves with. They need to study Lord Buddha's teachings and then find an opportunity to try to empty their mind of all impurities," Sqn-Ldr Prasong said.
The CDC chairman said he was informed that some laymen and certain political groups are involved in the ongoing campaign for such a declaration.
He said there were no amendments made to sections dealing with the monarchy and religion in previous constitutions.
The CDC, which is drawing up the draft for the new charter, has not considered introducing such changes either, he said.
However, views and suggestions for additional amendments to the new charter draft can be submitted to the drafters.
Sqn-Ldr Prasong said pressure groups would not affect the timeframe for completing the new charter, adding that everything will go according to plan.
When the first draft of the new constitution is finished, he said, it will be sent to the chairman of the Constitution Drafting Assembly (CDA) and then it will be published for distribution to the provinces before the referendum, he said.
Phra Rajpanyamethi, vice-dean of Maha Chulalongkorn Buddhist University and a campaign leader, said it was no surprise to learn the drafters had a "preconceived idea" on the official religion issue.
The monk insisted that there was nothing wrong with the campaign, which was initiated out of honest intentions.
Gen Thongchai Kuasakul of the Buddhism Promotion Foundation called on Buddhists to lobby the CDA to support the declaration of Buddhism as the national religion. The CDA will meet to deliberate proposed amendments to the first draft on April 26.