Thailand mulls talisman tax
Monster & Critics, Apr 20, 2007
Bangkok, Thailand -- Thailand - which notched up a 190 billion baht (5.4 billion dollar) financial deficit during the first half of fiscal 2007 - is mulling a new tax on the kingdom's booming trade in lucky talismans, media reports said Friday.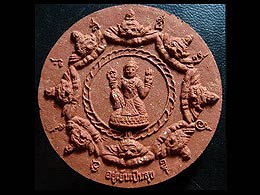 << The Jatukham Rammathep amulet
The revenue department's interest in a talisman tax was sparked by this year's phenomenal boom in 'Jatukham Rammathep' amulet sales, expected to generate some 20 billion baht in transactions this year, said The Nation newspaper.
'There is a tremendous amount of money floating around in the amulet market,' said Sanit Rangnoi, the department's director general. 'If the production of the talismans is for commercial purposes, it should be taxed.'
The department has launched an investigation into the Jatukham Rammathep amulet industry to determine whether it is more commercial than religious in nature.
Since late last year the Mahathat Woramahawiharn Buddhist temple in Nakorn Si Thammarat, 550 kilometres south of Bangkok, has been attracting up to 10,000 visitors a day to buy Jatukham Rammathep talismans, named after two princes of the Krung Srivijaya Kingdom in southern Thailand (757-1257).
The special amulets, which were first produced in 1987, have seen a surge in popularity after the death at age 110 of well-known policeman Phantharak Rajjadej, who helped create the 50 centimetre amulet. Original models of the amulet that sold for 100 baht (2.80 dollars) now fetch up to 600,000 (17,143 dollars).
Sales of the amulets, which are anointed by Buddhist monks at Mahathat Woramahawiharnj temple, have sparked such a frenzy that a 51-year-old woman was trampled to death on April 9 in the crush to get reservation coupons for the talismans.
Religious experts said the revenue department may run into obstacles trying to tax the amulet trade given the involvement of Buddhist temples in the industry.
Although Buddhism does not officially support the use and trade in lucky amulets, which are more in keeping with Brahmanical beliefs than Buddhism, Thai temples and monks are actively involved in the multi-million dollar industry.