Communicating DHAMMA
by ALAN THAMANAN, Bangkok Post, May 25, 2007
Reconciling today's material world with the teachings of the Lord Buddha would seem to be a hopeless task, but there are some who are committed to achieving it
Bangkok, Thailand -- In a competitive society urging us to want more, spend more and consume more, suffering stress is inevitable, like getting wet when it rains.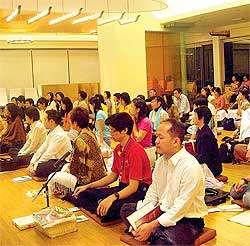 << Every Wednesday, the light, bright meeting rooms of Danai Chanchaochai's office complex fill with mostly young people coming to listen to a monk's sermon or practise insight meditation.
Or is it? Danai Chanchaochai, CEO of a young public relations company, is one who believes that we can live a better life through following the dhamma. "It's our duty as Buddhists to embrace the dhamma in our hearts and promote it in every way we can," he said.
There are many voices reminding us that we don't need to suffer the depredations of a stressful, consumerist life. They are present all the time, but this weekend our attention will be more highly concentrated on them. From May 26 to 31, Thailand, for the second year, will be host to World Visakha Bucha Day, when more than 1,000 Buddhist leaders and scholars from 54 countries will be here to take part in the occasion.
Visakha Bucha is the most auspicious day of the calendar, commemorating the Birth of the Lord Buddha, his attainment of Enlightenment and his passing to Nibbana. Its worldwide importance was recognised by the United Nations and it was designated a World Heritage Day in 1999.
This year, Maha Chulalongkorn Rajawitthayalai, the Buddhist University, the government and Thai Buddhist organisations have planned a series of ceremonies and meaningful events with many speakers, whose number includes the most venerable Zen master, Thich Nhat Hanh. And they have appointed nine Thai Buddhist ambassadors to take part in the proceedings.
They are all well-known personalities like Dr Wit Sittivaekin, Dr Supachai Phongsawad, Patarin Sosothikul, Runcha Borinbanbureephun, Marisa Mahawongtrakul, Chaiya Mitchai, Sirium Pukdeedumrongrit, Jiranan Manojam and Danai Chanchaochai.
"We were all appointed in a ceremony at Wat Saket by the representative of the Supreme Patriarch," said Danai. "Our responsibility is to promote every item on the programme in whatever way we can.
"There are a lot of them at the same time in different places, so we'll all be needed somewhere. We shall be meeting delegates, making them welcome, taking part in the ceremonies and talking to the media, making sure that everyone is aware of World Visakha Bucha Day and its importance."
Danai is in the business of communicating, seeing that his clients' products and services are well known to the public and held in high regard in this highly competitive world. But communicating has a deeper meaning in his life: it is not only his profession but his vocation.
Step into the company's headquarters, a light, bright area of floral colours, gleaming wood and floor-to-ceiling windows, and you are as likely to hear monks chanting as you are to hear Norah Jones on the sound system. You are also likely to see 100 or more people, mostly young, listening to a talk on dhamma, or a lecture by Danai on how meditation and following the precepts of dhamma can benefit your life and work. Communicating dhamma has been a significant part of his life since his teenage years.
"When I was young, I always dreamed of being an ambassador," he said. "I was brought up by my grandfather who as a young man travelled on foot from Nakhon Ratchasima to Bangkok to study at Wat Mahathat.
"He lived like a monk; I never saw him angry or impatient. And I was surrounded by his books, volumes of scriptures and commentaries on Buddhism. At that time I didn't read them, but I felt a familiarity with them; their presence in my grandfather's house was part of the atmosphere in which I grew up."
To support his diplomatic aspirations Danai studied English and history, and at Hor Wang school he won an AFS scholarship to study in the US. His year in St Louis, Missouri as an exchange student proved to be a turning point in his life and provided him with a dream-come-true moment.
"As a Thai exchange student I was supposed to be youth ambassador for our country, and I took that quite seriously", he recalled. "I met some very nice people in St Louis, but they knew absolutely nothing about where I was coming from. People had never heard of Thailand, or they confused it with Taiwan. 'Was it a French colony?', 'Do you wear shoes at home?': These were the sort of questions people asked.
"I realised that if I was to explain Thai people to them, I would have to find a brand image for us. Two images came to my mind: the temple and the palace. I saw them as the two pillars on which Thai society is founded, Buddhism and the Monarchy.
"Then when I was asked to speak I began to feel proud - of my country at first, and then of myself for being able to stand up and talk to people about who we are and what we're about. And I knew that in some way or form, this would be my life".
But at 17, he had to return to Thailand and earn a living. At university he studied business administration, but was active in founding the university's Buddhist Society, and studied at the temple of Buddhadasa Bhikkhu in Suan Mok.
"At one point, I remember Buddhadasa Bhikkhu saying, 'Dhamma is nature, dhamma is work.' I didn't understand that at first, but after 15 years of dhamma practice I finally saw that dhamma is a natural force, and if we are pursuing a working life we can walk the dhamma path and the two will be going in the same direction. I saw that everything in our lives - work, leisure, friends, partners, faith - are all inseparable from dhamma".
He has continued since that time to talk about Buddhism and the dhamma to anyone who is interested, and there have been many. Working for a PR company in Bangkok, he held meditation classes at his apartment for a few friends. For the first meeting there were eight, but the numbers grew so rapidly that the apartment was soon full.
"We could no longer do walking meditation because there just wasn't room," one early student recalled. On one occasion there were 160 crammed into a space of 128 square metres, sitting in every conceivable space, in the kitchen, the bathroom and in walk-in cupboards.
At the same time, Danai was also speaking to business institutes, universities, government agencies, hospitals and banks, as well as broadcasting and publishing books. Now he continues his weekly meetings at the premises of his new company with plenty of space.
"We have 1,000 square metres, half of which is the office and the other half the common area with meeting rooms named for auspicious Buddhist sites: Bodhgaya, Lumbini, Varanasa and Kushinagar," he explained. "We invite the public to come every Wednesday, and there's no charge because it is something we want to share. We serve the people who come here for meditation: all our staff have this service mind; they work hard to deliver their best work and also give time to share with others.
"I'm trying to show that a successful business is not in opposition to the dhamma. There is a perception that business is driven by figures, achieving growth and maximising profit - in short, by greed. And on the other hand, there is a perception that Buddhism means not striving, not achieving, not being motivated.
"But to practice dhamma is to be constantly awake! I don't sit still. There is so much to be done every day and I must produce quality work. But I can be better; we can all live a better life. That's what I want to achieve - and it can be achieved by dhamma.
"Don't think that studying dhamma is something to do when you're older and have time on your hands. That's another misconception. I want to encourage young people to get interested. Don't wait. Start young!"
The number of young people, many involved in modern urban lifestyles who attend the Vipassana meditation evenings at Danai's office is at first surprising; but it's clear to see that people feel positive results in their own life.
Daneenart Burakasikorn could not be a better example, a stylist at a leading women's magazine, who is now making her third visit.
"I heard about these meditation meetings when I was working out at the gym, and Khun Danai invited me to join in. I thought at first it was going to be difficult - you know, speaking Pali, hard to understand. But no, it wasn't difficult at all. Everything the monks say is easy to understand, and to apply to our everyday life. And I love the atmosphere here, too.
"I still don't know a lot about dhamma, but I know I feel calmer and happier since I've been coming here. It's easier for me to understand and accept situations around me, whether they're positive or negative. Above all, I stay conscious, which means I always concentrate on how I feel, what I think and what I do".
Danai has already become known as a "dhamma ambassador" because of his diplomatic initiatives at home and abroad, at the Buddhist economic seminar in Jakarta and in Sydney at the Buddhikusuma conference, both in 2005, and at Oxford University last year where he spoke on the Buddhist tradition as a resource for business life.
"As one of the ambassadors for World Visakha Bucha Day, I'm encouraging everyone to take part in the activities", he said. "I shall be at the opening ceremony at Phutthamonthon tomorrow, Saturday, May 26. The International Buddhist Conference will begin on Sunday at the United Nations Conference Centre. Afterwards, there will be a procession to the Temple of the Emerald Buddha for a chanting ceremony with blessings for His Majesty the King's birthday".
One of the keynote speakers at the conference will be the venerable Thich Nhat Hanh, the Vietnamese Zen master, who'll be talking on the contribution of Buddhism to good governance.
At Siam Paragon from May 28 to 30, there is an exhibition of Buddhist art with work by artists from Bangladesh, Bhutan, Japan, Korea and Taiwan and Thai national artists, all on Buddhist themes. On the afternoon of May 29, delegates will proceed to Phutthamonthon for the candle-lit procession and the circumambulation in front of the Phra Sri Sakya Dasa-bala-nyana Standing Buddha.
"I don't think my duties as an ambassador will end when World Visakha Bucha Day is over," said Danai. "I'll go on doing it as a volunteer, whether my appointment is extended or not! For me, it's a privilege - and as I've said before, communicating dhamma is what I do".
Later this year, he will be Thailand's representative at the 5th global Conference on Buddhism in Malaysia, "Transforming the Mind to Create Happiness in Our Lives."
------------------------------
For a full programme on the 4th International Buddhist Conference 2007, May 26-29, visit http://www.vesakday.net. Meditation session at Danai's office on level 22, Amarin Plaza, Phloen Chit Road (tel 02-685-2254/5) are held every Wednesday from 6-9pm, all are welcome.