Amulet craze 'contrary to Buddhism'
Bangkok Post, May 29, 2007
Bangkok, Thailand -- Revered monk Phra Maha Wudhijaya Vajiramedhi said on Saturday that the Jatukarm talisman craze reflects a thirst for an easy windfall and deviates from the Lord Buddha's teachings. He minced no words, blaming the media and monks for fuelling the amulet fever.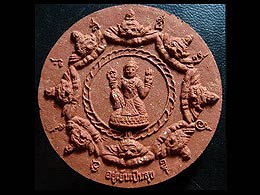 << The Jatukham Rammathep amulet
The monk, who currently teaches at Mahachulalongkornrajavidyala University, said: "The three refuges a Buddhist should seek are the Lord Buddha, his teachings and his ministers [monks].
"The rightful way to make a living is to use our brain and two hands, not the talisman," said the monk, better known under his pen name of W. Vajiramedhi.
The popular amulets are said to be wealth-spinners, and are rolled out with extreme and oddball labels such as Kote Ruay Maha Sarn (Enormously Super Rich) and Ruay Mai Mee Het Phon (Rich Without Reasons).
Speaking on the sidelines of the Fourth International Buddhist Conference, the monk and prolific dharma writer said Thais have not run short of models to inspire them.
They have His Majesty the King, and more than 30,000 temples and 300,000 monks across the country, he said.
But most talisman owners are short of money and lack knowledge of the dharma concept of self-reliance, he said.
No one dared to be a whistleblower, to tell society that it is heading in the wrong direction. This was the task W. Vajiramedhi said he expected from the media and the monks, which ironically acted otherwise.
Education for monks should be revamped, he said, adding that monks who took part in producing the amulets were uneducated. They could not distinguish between Brahman and Buddhist beliefs.
As a Visakha Bucha ambassador, W. Vajiramedhi also encouraged the public to refrain from vice and make merit on Visakha Bucha Day, which falls on Thursday.
The conference, held in Buddha Monthon in Nakhon Pathom yesterday, runs until Tuesday, and has drawn 5,000 Buddhist participants from 61 countries.
The forum has agreed to actively promote Buddhism, particularly in China, India, Europe, Africa and the United States.