Thailand: Monks in sit-down protest
News.com.au (Reuters), June 11, 2007
Bangkok, Thailand -- ABOUT 5000 Buddhist monks and religious activists blocked traffic in front of Thailand's parliament today, demanding Buddhism be declared the national religion in the new, post-coup constitution.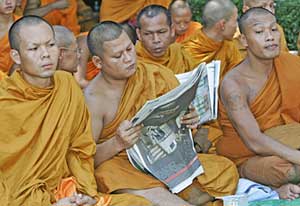 << Pay attention! ... Monks protest in front of parliament in Bangkok to demand Buddhism be declared the national religion in post-coup Thailand / AP
The protesters staged a one-day hunger strike to press the 100 members of the Constitutional Drafting Council, set up after the coup that ousted Thaksin Shinawatra as prime minister last September, to give Buddhism special official status.
"We will fast and pray for all 100 members to respond to our demand," said Thongchai Guasakul, a retired army general who led the rally.
Writers of the new charter, which will replace the 1997 People's Constitution torn up by the coup leaders, have previously rejected the demand, saying it would widen religious rifts especially in the violence-torn Muslim-majority far south.
In April, the same group of protesters accompanied by nine elephants braved scorching heat to march 30km from the capital's western suburbs to parliament.
Mr Thongchai said the rally of 1000 saffron-robed monks and 4000 devotees in pure white would grow as the charter drafters started to debate clauses in the new constitution later in the week.
His campaign is the latest in a growing number of protests that the Council for National Security, as the coup leaders now call themselves, are being forced to address.
On Friday, around 10,000 supporters of Mr Thaksin's ousted administration rallied in front of Bangkok's golden-spired Grand Palace before marching to the army's headquarters to call for army chief and coup supremo Sonthi Boonyaratglin to step down.
General Sonthi rejected their demand.