Thailand: Keep religion 'politics free'
By Supawadee Inthawong, The Bangkok Post, Aug 12, 2007
Queen also worries about the toll of deforestation and water pollution in her birthday eve address
Bangkok, Thailand -- Her Majesty the Queen agrees that religion should not be mixed with politics and Buddhism should be kept out of the constitution. The Queen was speaking yesterday in her broadcast birthday address to a gathering of cabinet ministers, high-ranking government officials and members of the public who came to the Dusitdalai Pavilion to wish her well on the eve of her 75th birthday.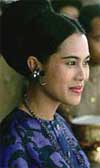 << Thailand's Queen Sirikit
The Queen said that on her recent tour of Russia, Germany and Austria, Thais who lived overseas asked for her opinion on the issue of declaring Buddhism the state religion in the draft constitution.
''I didn't think before that the question about Buddhism and the constitution would be put to me.
''I had to explain to them that Buddhism is a noble religion, which has been looked after since the Sukhothai era,'' she said.
The Queen added politics sometimes goes wrong and is tainted with things that are not always straightforward.
''Everybody does not want Buddhism to be mixed with politics. It should be held in high esteem as a guiding light for all Thais,'' she said.
She said Buddhism was a religion that has belonged to Thais since the Sukhothai period.
Upon being crowned, every monarch including the present one must take a vow to protect Buddhism with his life, she said.
The Queen said many foreigners told her during the overseas trips that they thought highly of Bangkok as a city of religious tolerance where Buddhist temples, Muslim mosques and Christian churches can stand side by side without conflict.
''It is the kind of reciprocal treatment between people who have the noblest souls,'' she said.
However, she said, the situation in the far South where monks are killed and stopped by insurgents from making morning alms rounds must be treated as a special case.
The Queen said all Thais have the right to profess any religion or belief they see fit. But if their actions go far beyond acceptable limits, they must be warned or restrained.
She also expressed concern about environmental problems, including deforestation and pollution.
Deforestation will affect water sources, she said, citing a forecast that fresh water would be in short supply in the next 20 years.
She called on the prime minister and relevant agencies to preserve forests.
''We have forests with highly valuable wood. Although they are difficult to look after, we still have to protect them.''
The Queen said she had called for the preservation of forests since her early years as queen but her calls appear to have fallen on deaf ears. She blamed greedy people for cutting down forests, leading to mudslides that kill people and devastate property.
She cited His Majesty the King's advice that forests help soak up rainwater and prevent mudslides, but nobody takes heed of it.
''We have to see the deaths of people and we will then heed the advice,'' she said.
The Queen had ''a heavy heart'' about the contamination of the Chao Phraya river. She believed practically every species of freshwater fish in the river could become extinct because the river has been fouled by chemical discharge from factories and rubbish.
She called on relevant agencies and city residents to restore the river to its former state as a source of food for Thais.
The Queen also referred to the King's difficult struggle to protect mangroves which serve as nurseries for baby fish and prawns.
In her speech, the Queen recounted her trips to European countries, including Russia where she visited Peterhoff Summer Palace in St Petersburg, where King Rama V stayed during his visit in 1897.