Dharma delivery
by PICHAYA SVASTI, Bangkok Post, Oct 4, 2007
Phramaha Sompong Talaphutto is capturing audiences by making dharma fun and easy to understand
Bangkok, Thailand -- The audience numbering in the hundreds smiled, laughed out loud, were in a thoughtful mood and sometimes had tears in their eyes. No, they were not watching a soap opera. They were listening to a sermon by a Buddhist monk. And this happens every day at five or six schools and workplaces.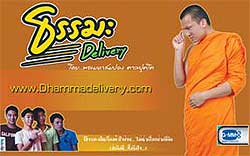 Clad in a yellow robe, Reverend Phramaha Sompong Talaphutto brings laughter and tears to many people while preaching in a cheerful yet informative style. He makes dharma fun and easy to understand by citing daily life, new trends, teenage heart-throbs, popular songs, ring tones and even soccer stars as examples.
"The giving of dharma conquers all. I wish to conquer so I preach," the monk said, "My sermons are simple and easy to understand for people from all walks of life, religions and even of different races."
The 29-year-old monk, along with his 10-monk dharma troops, "deliver" Buddhist teachings to over 200 venues nationwide every month _ by invitation. His 10-plus preaching albums under the title Dharma Delivery sell like hot cakes. The topics of these albums vary from the virtues of parenting to how to live a happy life, how to work with joy, as well as dharma for the young, families, lovers and the elderly.
This is not a common phenomenon in Thailand where temple visits and sermons are thought to be old-fashioned and are usually reserved for devout Buddhists and the elderly only.
Phramaha Sompong Talaphutto's popular albums, `Dharma Delivery'.
Born in 1978 to a farming family in the Northeastern province of Nakhon Ratchasima, the young Sompong grew up in Chaiyaphum. At 13, he was ordained as a Buddhist novice at a temple in Khon San district, Chaiyaphum, purely by chance.
The young boy was on his way to tour a cave near a temple, but got lost. When he was supposed to turn right, he turned left and unknowingly queued up for a mass ordination ceremony.
After 15 days, he decided to remain in Buddhist robes for another year to please his mother. The novice later moved to a temple in Khon Kaen to study Pali and dharma until he passed the primary dharma exam, or nak dharma tri. But instead of returning to the secular world after failing the next dharma exam, parian dharma song prayok, he was determined to stay on till he cleared the exam. As a boy who had always been top of the class in primary school, he could not give up that easily.
"That [failing the exam] was the greatest disappointment in my life," Phramaha Sompong recalled, "But, it's just like that. It is tathata [objectivity]."
A few years later, he moved to Wat Soi Thong in Bangkok where he now lives. At 19, he earned an advanced degree in dharma, or parian dharma jed prayok. The monk later earned a bachelor's degree in Buddhist studies from Maha Chulalongkorn Rajavidyalaya University and a master's degree in social work from Thammasat University.
Though his entry into the ecclesiastical world was an accident, his life as a preacher was not. In his first year as a novice, he took a song thaew to a nearby temple to preach about the Five Precepts. His jokes against smoking brought laughter to all except a few monks who were smoking like chimneys.
According to Phramaha Sompong, his sermons always begin with fun things so people open their minds, and he always ends with a topic that touches the heart.
He honed his preaching skills through self-learning until he joined a Buddhist camp at Wat Sriboonruang in Bang Kapi, where he learned preaching techniques from other monks.
"I like to study, talk and make people happy. I have tried to make it fun for those forced to listen to sermons. As Thais love to have fun, my sermons are relaxing, yet informative and touching," the monk noted.
This year is his ninth year as a preacher. To combine his words of wisdom and fun with balance, the monk never stops learning from things around him ranging from advertisements to the Internet, music videos and even sports.
After waking up at 5am, he reads 10 newspapers, checks teen magazines and lists of popular ring tones, and asks temple boys about hit lists for the young. His favourite reads are psychological books.
"I study all this so that I can teach. I want to know the way lust comes and goes and can be prevented," Phramaha Sompong said.
Whatever the combination, all his sermons are always based on the Tripitaka, the pillar of Buddhism, and Buddha Dharma, a dharma book written by highly-revered monk Phra Dhammapitaka (P.A. Payutto).
His targets have expanded from children to grown-ups. Though gags vary by age, main topics are always the Five Precepts, mindfulness, happiness of life, studies and work, the Four Brahmavihara (Divine States of Mind or Divine Abodes): Metta (loving-kindness), karuna (compassion), mudida (sympathetic joy) and upekkha (equanimity), and His Majesty's contribution to the Kingdom.
For adults, each sermon usually begins with stories about His Majesty the King's sense of humour, linked to dharma. For youngsters, the goodness of parents, self-love, romantic love in the learning age, drugs and patriotism are popular topics.
Despite his rising popularity, Phramaha Sompong refrains from a one man show and shares work with his team.
"We work as an army of dharma. We want people to listen to dharma, not just a few monks," he noted.
His secret tip is to feel happy preaching and make every sermon enjoyable, crystal clear and convincing from the very first word.
The monk even compared sermons to music.
"Buddhadasa Bhikkhu's sermons were like classical music. Phra Wor Wachiramethi's are like Thai pop songs. Mine are like luk thung or hip hop songs. All support each other if people have positive attitudes towards dharma," he said.
His icons include reverend Phra Payom Kalayano for his preaching, reverends Phra Wor Wachiramethi and Phra Dhammapitaka for their academic work, and talk show guru Jatupol Chompunich.
Hoping his fame to be a springboard for widespread sermon listening, the monk is laying a good foundation for his team before fulfilling his dream to preach abroad.
Above all, his ultimate goal is to live his ageing life in peace at the Suan Mokkh (Garden of Liberation) forest monastery in Surat Thani and preach in its Spiritual Theatre.
Of all Buddhist teachings, the Lord Buddha's final warning against a reckless life has made the most impression on the monk. This keeps him mindful and eager to do his best without giving up.
"Don't give up if you fail to reach the top of a mountain. There are a lot more mountains for you to climb. The word 'failure' is not in my dictionary. People don't fail. They just give up."
As his schedule is full until January, the monk earns enough to equip his team with high technology for preaching and contribute to the less fortunate.
The monk regularly donates money to Wat Prabat Namphu in Lop Buri, a shelter for Aids patients, and gives 10,000 baht a month to the debt-ridden Ban Khru Noi in Rat Burana district, a home for orphans and needy children.
To raise funds for Ban Khru Noi, Phramaha Sompong and Kom Suwanpimol, creator of the "Coach for Goal" development concept, will join forces in a talk show "Life-Changing Dharma! The Inspiration Show" at the Chulalongkorn University Auditorium.
With all proceeds going to assist Nuannoi Timkul, or Khru Noi, who is an inspiration for people to do good, the talk show is aimed at happy, successful lives.
"I'll talk about happiness that is easily gained. Common questions are 'What is life?', 'For what were we born?' and 'How can we live, study or work happily?'," the monk said.
The 'Life-Changing Dharma! The Inspiration Show' talk show will be held on October 28 at the Chulalongkorn University Auditorium, from 2 to 5pm. Tickets are priced at 900 baht and can be booked through the Life-Changing Dharma Call Centre on 02-939-8051/2; Stock Exchange of Thailand (Maruay Library) on 02-229-2000 ext 3183; or at www.coachforgoal.com/, or www.dhammadelivery.com/.