Thailand's alms-bowl makers live off tourists, not just monks
By MATTHEW STREIB, The Associated Press, Dec 9, 2007
BANGKOK, Thailand -- Above the din of children playing, tourists chatting and dogs barking, a muffled clang echoes through the alleyways. It's 70-year-old Pranee Sutdis who, as she has for most the last 58 years, is hammering steel into bowls with a small mallet.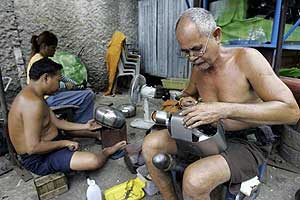 << Thai workers cut and work on the metal to make Buddhist alms bowls at Ban Baht or the House of Bowls community in downtown Bangkok. Apichart Weerawong / AP
"It used to be that every house did this all day, and you would wake up to endless 'ping, ping, ping.' Now, there are only a few and it's not so noisy," she says.
Pranee is part of Bangkok's shrinking community of traditional Buddhist alms bowl makers, in the last such enclave in Thailand. Most monks in Thailand now buy factory-made goods. So these artisans rely on tourism to keep their tradition alive.
The narrow alleys in Rattanakosin, the city's old quarter, are known as "Ban Baht," or "House of Bowls." Around 60 people, including five families, work there. The community is believed to have started in the 1700s as a settlement of refugees fleeing war with neighboring Burma (now known as Myanmar).
The art of making handmade alms bowls for Buddhist monks goes back thousands of years.
The bowl is one of the most important objects in the daily life of the monks. It is primarily used to collect money and food from lay supporters. But also has deep symbolic significance. In Buddhism, giving of alms is the beginning of one's journey to Nirvana, the state of perfect bliss.
Sunee Serseeserm, 59, spends his days fitting cross-shaped sheets of metal to a round mold, part of the beginning of the bowl-making process. He says that, like Pranee, he has performed the same job for most of his life.
Sunee says he still gets orders from veteran monks, who often buy bowls rubbed in oil rather than lacquer, so the golden seams from its handmade manufacture are visible. Medium-size handmade bowls cost around 1,000 baht, about $32. Factory-made ones can be as little as one-tenth of that price.
"If they have been monks for a long time, they know they need to buy a handmade bowl. In some temples, they don't accept factory-made ones," Sunee says. He adds that business from monks has been especially good this year, due to King Bhumibol Adulyadej's 80th birthday on Dec. 5, with weeks of celebrations preceding it. More people are becoming monks and they want special bowls for the occasion.
Somsak Batchart, 51, owns one of four retail shops in the neighborhood, where he was born. He says the shop has been in his family for hundreds of years. While business slumped a few years ago, it has since boomed because of an influx of tourists.
"My customers are Westerners, so I always have business," he says, smiling. "Sometimes I can't even get everything done on time, and as it's handmade, there's no way to speed up the process."
He credits part of the growth in tourist business to a program run by Bangkok's city government promoting Ban Baht as a "conservation community" important to Thailand's heritage. Sunait Chutintaranond, who teaches a course on modernization and traditional society at Bangkok's Chulalongkorn University, says it's not surprising that tourists are replacing Thais as Ban Baht's customer base.
"When the Thai people think of quality, they now look to the West, wanting brands like Gucci and Dolce and Gabbana," he says, adding that they gain a sense of cultural cachet from imported items.
He says that many traditional industries survive because of tourist interest, but this has altered their forms in some cases. "If you look at Thai silk nowadays, it's still the same fabric, but the patterns have changed. Now you'll see patterns that are appealing to tourists and not the traditional Thai designs," he says.
Somsak doesn't see anything strange about tourists buying objects with religious symbolism.
"When they go to temples in Thailand, they see bowls everywhere, and think of it as a symbol of what they saw. They want to take it with them," he says. "What they do with it, I don't know."
Pranee says she is worried that the tradition may continue to fade over time. Her whole family used to work in Ban Baht, but now it is only she and her daughter, who paints designs on finished bowls in gold paint. After her husband died ten years ago, she was forced to merge her business with another shop.
"Young people don't want to work here anymore. I worry that our tradition will simply become a legend," she says.
But Somsak is more hopeful. Out of his five children, two work in his shop.
If fewer people learn the craft, it's OK, he says. "I can at least teach some of the younger generation to do it, and it'll be here."