Lessons beyond the temple
by Aree Chaisatien, The Nation, January 27, 2008
A Bangkok university guides students on both the art of Buddhism and the art of life
Bangkok, Thailand -- With Thais taking a keen interest in Buddhism at younger and younger ages, instruction in the faith is no longer confined to temples. One university is offering a pair of pragmatic new courses designed to fill crucial learning gaps.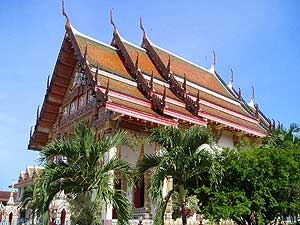 << Mahachulalongkorn-rajavidayalaya University (MCU) aims to bring Dhamma beyond temple walls
Bangkok's Mahachulalongkorn-rajavidayalaya University (MCU) has launched an undergraduate programme in Buddhist art to ensure the survival of temple murals and sculpture.
It includes classes in everything from ancient Pali to the latest 3-D design techniques, as well as Buddhist philosophy and history and the management of museums and galleries.
Deputy MCU rector Phramaha Somjin Sammapanno says he hopes the bachelor-of-arts course will raise awareness about the need to preserve artisans' skills in Thailand, and that "it will appeal not just to monks but members of the public".
MCU and the non-profit Buddhist community Savika Sikkhalai are together also offering a new master's-degree programme for successful working people who want more peace and harmony in their lives.
"Buddhism and the Arts of Life" is open to anyone who wishes "to live life the right way, with wisdom and gentleness, and wants to help others to do the same".
Suggesting that people too often visit a temple only when they're in crisis, nun Sansanee Sathirasutra says the course "aims to produce ariya [noble men], not achariya [geniuses]".
Sansanee is the founder and director of Savika Sikkhalai and director of Bangkok's Sathira Dhammasathan Meditation Retreat Centre, where she has taught dharma for 20 years.
Savika Sikkhalai provides a Buddhist education for women, teaching them to lead peaceful and more useful lives. It also hosts weekend activities, such as coaching parents-to-be, helping families communicate effectively and showing teenagers the difference between love and lust.
The two-year "Buddhism and the Arts of Life" course will be taught each weekend beginning in June.
"To practise effectively, we must first have an excellent understanding of dharma," says Sansanee. "The right faith is faith obtained through wisdom."
Subjects will include ariyasatya - the law of natural truth - and anapanasti, the mindfulness of breathing as a path to wisdom. There will be Buddhist counselling, psychotherapy and an examination of life and death from the Buddhist perspective, including hospice care.
Elective subjects will be ayuraveda and natural healing, traditional Thai massage, the Buddhist way of coping with dying, and dharmic communication through various media.
"It's good that Savika Sikkhalai is providing what Thailand lacks in terms of offering women an education in Buddhism," says MCU's rector, the Most Venerable Prof Phra Dharmakosajarn.
"Women in Thailand still have too few opportunities to study dharma at an academic level."
Like all MCU courses, he says, "Buddhism and the Arts of Life" will produce socially engaged Buddhists, rather than "silent" Buddhists.
In their inaugural year, both of the MCU courses are open only to Thais, but they will eventually accept foreigners.
For more information, visit Mcu.ac.th and Sds.web.org.