New Thai Prime Minister Gets A Good Luck 'Blow' On The Head
Bernama, January 29, 2008
BANGKOK, Thailand -- Thailand's new prime minister Samak Sundaravej on Tuesday, received a blow on the head from a senior monk who wished him well and longevity in office.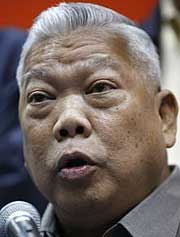 << Samak Sundaravej, Thailand's 25th Prime Minister
Phrakru Palad Sopit Chotikul, a senior monk from Wat Arun Rajavararam (the Temple of Dawn), also gave a Buddha statue entitled "Somdej Phra Maha Dhammik Chakrapadiraj" to Samak, TNA reported Tuesday.
He said the name of the Buddha image was equivalent to "administering the country with the Lord Buddha's teachings," adding that Samak was suitable for the premiership.
In addition to the Buddha statue, the senior monk also put a necklace with an amulet around Samak's neck and wished him "good luck" with a blow on the new premier's head.
Meanwhile, Samak's residence in Bangkok's Buengkum neighbourhood was crowded with Thai and international media waiting patiently to report on the People Power Party leader's every movement.
Samak however confined himself in the house.
He willingly welcomed Phrakru Palad Sopit Chotikul who called on him early in the morning.
According to an aide, the new premier had no plan to leave his residence on Tuesday.
Samak's wife, Khunying Surat, was seen busy preparing for a ceremony inside the residence for her husband to receive the royal command from His Majesty King Bhumibol Adulyadej officially bestowing upon him his title as Thailand's 25th prime minister.
She also oversaw preparations for a banquet to be held in the compound on Tuesday evening after the ceremony.