Thai monk collects skulls in homage to buffalo
AFP, Jan 4, 2008
BANGKOK, Thailand -- The grounds of the 260-year-old Hua Krabeu temple on the outskirts of Bangkok look like a place where water buffalo go to die.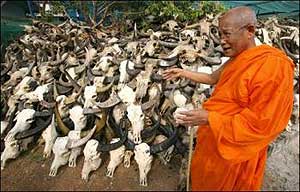 << Thai Buddhist abbot Phra Khru Wiboonpattankit, seen here, has been collecting buffalo skulls for a planned memorial to the creature
Beneath simple tarmac shelters, thousands of water buffalo skulls are stacked in piles that tower over two metres (six feet) high, a grim homage to an animal that was once an iconic part of Thailand's landscape.
The abbot of the Buddhist temple, Phra Khru Wiboonpattankit, has been collecting the skulls for more than 35 years. He hopes eventually to have enough to build a three-storey tower that will house a memorial to the beast.
Inside the mountain of skulls, which he says will stand at the end of a path also decorated with buffalo heads, will be a cave housing an image of the Buddha.
When the abbot first moved to the temple 35 years ago, he found villagers had left 10 skulls at the grounds in remembrance of their dead buffalo.
As he developed the idea for his memorial, he began encouraging other villagers to donate skulls when their buffalo died. He slowly amassed a collection of 1,000 skulls, which was nowhere near enough to build his shrine.
So he a few years ago he began asking for cash donations to buy skulls from slaughterhouses.
He now has 8,000, including one prized piece whose head and horns are perfectly symmetrical and undamaged, which cost him 3,500 baht (about 100 dollars).
Although Thais relied for centuries on water buffalo to plow their rice paddies, provide transportation and even defend villages during war, now the animals are falling from favour.
Over the past decade, farming has become mechanised, reducing the need for the animals' labour. In many rural areas, water buffalo are now prized as a delicacy more than a beast of burden.
"Kwai," the Thai word for water buffalo, is synonymous with "stupid," and for many people it is a reminder of a not-too-distant, less developed past in a country that has modernised rapidly.
The abbot however sees things differently.
"These animals have proven to be useful from the day they are born until after they die. People who do not contribute to the society they live in should not be ashamed of the buffaloes," the 62-year-old monk told AFP.
As he walks past his collection of skulls, he says he wants them to remind people that the animals are slowly disappearing from Thailand.
The kingdom has about 1.3 million buffaloes, down from 4.7 million in 1990, according to Ancharlie na Chiang Mai, a senior researcher at the government's livestock department.
The number continues to drop because about 300,000 buffaloes are slaughtered each year for meat while only about 200,000 calves are born annually, she said.
The changes in Thailand are visible around the temple, whose name translates as "Temple of Buffalo Heads".
When Wiboonpattankit first arrived here 35 years ago, the temple was surrounded by rice paddies worked by buffalo.
Now the city has grown up around it, and there are more stores and cars than fields and animals.
The abbot has a penchant for collecting. He was investigated by Thailand's main Buddhist group for assembling a collection of more than 60 antique Mercedes Benz cars, which critics said violated his vows of poverty.
He said the cars had been donated so that the temple could run a training programme for young mechanics. Investigators believed him and his name was cleared.
His stash of skulls is still not enough to achieve his dream of using them to build a shrine to the buffalo, but he says the donations that he uses to buy in skulls is helping.
"They come in a pick-up truck," he said. "A pick-up carries about 30 to 40 heads at a time. A truckload costs about 10,000 baht (3,000 dollars)."
"I think I have the world's biggest collection of buffalo skulls," he said.
He still needs enormous contributions to finance the construction, but hopes that once it's complete, the shrine to buffalo will provoke some self-examination among visitors.
"Life is not meaningful if you do not make yourself useful to society," he said. "Don't be someone who others would be happy to see die."