Burning bright
by Steve Williams, Sydney Morning Herald, February 24, 2008
Steve Williams visits the Buddhist monastery in Thailand where tigers live in harmony with monks
Kanchanaburi, Thailand -- Either she likes it or I'm dead. I'm crouched next to a magnificent Indo-Chinese tiger at the Wat Pa Luangta Bua Yannasampanno Forest Monastery in Thailand. Try saying that three times quickly; not surprisingly, it's better known as the "Tiger Temple".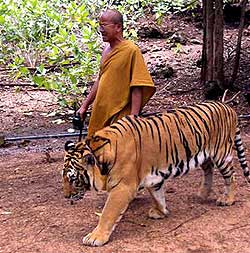 << Walkies ... a monk takes a stroll with one of the 22 tigers that are kept at the temple.
Photo: Steve Williams
She is sprawled out, flat on her back, blissfully asleep, front paws curled over like she's impersonating a kangaroo. If this were my cat at home, I'd give him a tickle under the chin. So I think I'll try it. What's the worst thing that could happen, apart from losing my face to one swipe of her massive paws which are about as big as my head?
I tickle away - the eyes flash open, taut muscles ripple, a millisecond of panic, head turns, then she lazily rolls that huge body closer towards me so I can keep tickling and patting her. No is obviously not an option. I've got all day.
The Tiger Temple is about 2 1/2hours west of Bangkok, in the Kanchanaburi province, not too far from the Burmese border.
It was founded in 1994 by the abbot Phra Acharn Chan, and since the gates first opened it has been a sanctuary for wildlife. The first resident was a jungle fowl brought in by a villager, then peacocks and an injured wild boar wandered in. Deer, buffalo, cows, horses and goats joined them, either brought in by villagers or they somehow found their own way. It's kind of like the Pied Piper meets Noah's Ark, without the boat. With human civilisation encroaching on this Thai hinterland area, the animals seem to know they are welcome and will be safe.
The first tiger cub was brought to the monastery in 1999 and was in a very bad way. She was just a few months old when poachers on the border killed her mother. Even though the monastery is close to the Western Forest Complex, a protected area that runs along the Thai-Burma border, sadly poaching still occurs. And it's big business - a tiger is worth as much as $6000 to a poacher. Global programs are in place to stop the poaching and have had some success, but, unfortunately, while there are people who want trophies of stuffed tiger carcasses or skins in their homes and hard-core devotees of traditional Chinese medicine, poaching will continue.
The little orphan cub was sold, and her new owner asked a taxidermist to stuff her. A monk told me the taxidermist injected the cub with formalin, but couldn't go through with the job and the cub was brought to the monastery. The monks nursed the terrified cub back to health, but sadly she fell ill and died five months later. She was the first of many tigers that have been brought to the temple - there are currently 22 living at the monastery, ranging in age from about 11/2 months to eight years old. Some of the older ones were adopted by the temple, and a great number have been bred there.
When you visit the monastery you can sense it's a special place - it all sounds very mystical, but there is a feeling of calm when you walk through the gates. That mystical feeling is temporarily interrupted when you have to sign a disclaimer absolving them of any responsibility if you leave short of a limb, but the staff tell me there has never been an incident. I've been there three times over the years and haven't seen a problem.
Once you enter you are able to wander around the grounds freely, talk to the monks and see where the tigers live. You might be initially shocked at the cages. Although they are pretty stark, with bare concrete floors, at least they are clean. As confronting as this is, you have to remember this is a Buddhist monastery, not a profitable zoo, it doesn't receive any funding from the Thai Government, and all money is raised by donations and the admission charges. Some visitors baulk at having to pay, but it is an expensive business keeping and feeding more than 20 big cats, not to mention the countless other animals. Work is under way on a new home for the cats - Tiger Island, a natural forest environment of almost two hectares. This will get the cats out of the cages into a more natural enclosure. The ambitious plan is for it to become a rescue centre, and to be used for education and research to aid a tiger conservation project, but funding is always an issue. Another open enclosure, Tiger Falls has been completed, with a grassed area, waterfall and moat for the tigers. Three of the temple's more senior feline residents live here.
As work continues on Tiger Island, at least the tigers aren't confined to the cages all the time. They're fed and given a bath (which they're not too impressed with) every morning, then at around 12.30pm - give or take; this is Thailand - the monks and volunteers bring the tiger cubs out for a run and photo opportunities. About 1pm the larger cats are led out for their afternoon session at Tiger Canyon. This is a spectacle in itself - the abbot zooms down a road in his motorised scooter with an unrestrained tiger in hot pursuit. He then more sedately walks the tiger (again unrestrained) down to the Tiger Canyon, this time with camera-toting tourists in not-so-hot pursuit, as the temperature is scorching.
The canyon resembles an old quarry, with high cliffs on three sides, and this is where you can get up close with the cats. They are mostly asleep, stretched out on the rocky ground - as though they're crashed out on the lounge after a big lunch.
There are benches where you can sit and watch the tigers, if you don't want to go and sit with them. If you do want to go in with the tigers, a volunteer will take you by the hand. This is for your own safety. These people, mainly Thais, work with the tigers every day and are "family". One of the monks told me an American guy strongly rejected to this handholding and wanted to go in by himself. He was refused entry; the monks didn't want their tigers upset by a stranger.
The volunteers will lead you to various spots - there might be a tiger on its own, or a group of them seemingly piled on top of each other. There's a lot of conjecture on the internet about whether or not the animals are drugged, enabling such access. I spoke to the abbot about how people are convinced the animals are drugged and he said, "People only see with their eyes and not with their mind". People need to justify what they're experiencing. He said: "Why would I hurt my tigers. I love them".
You only need to see how he interacts with the cats; he has quite a unique and powerful relationship with them. It is hard for us to comprehend, but the tigers have been handled from birth with absolute compassion. They have never tasted blood, so they don't associate blood with food - their diet consists of milk, cooked chicken and beef and dried cat food.
If you plan to visit the Tiger Temple, my suggestion is don't come just for the Tiger Canyon session. Get there a lot earlier. That way you'll be able to spend some time wandering around the grounds, talking to the monks. You might even get some quality time with a cub or two.
The Tiger Temple is a pretty special place, and Abbot Pra Acharn Chan is a special man. Without him, these endangered tigers would be stuffed, literally.
TRIP NOTES
Getting there: Most international airlines fly from Sydney to Bangkok. The Tiger Temple is in Kanchanaburi province, 21/2 hours' drive west of Bangkok. Tours can be organised by most hotels but a private tour is well worth it. Public buses and taxis are also available from Bangkok.
Staying there: Recommended hotels in Bangkok include the Banyan Tree Bangkok. See http://www.banyantree.com. There is a range of accommodation in Kanchanaburi including the Oriental Kwai Resort. See http://www.orientalkwai.com.
More information: See www.tigertemple.org.