Tribute to the king
By Sirinya Wattanasukchai, Daily Xpress, March 19, 2008
Nonthaburi, Thailand -- The breathtaking Wat Boromracha Kanchanapi-sek Anusorn - just completed in Nonthaburi's Bangbua-thong district - will delight photographers, but visitors will soon be reminded that the Chinese Buddhist temple was chiefly built to commemorate at that time His Majesty the King's 50th anniversary on the throne and his 80th birthday.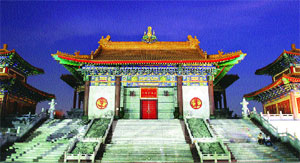 His Royal Highness Crown Prince Maha Vajiralongkorn will preside at the magnificent wat's opening tomorrow, which will be followed by a week-long celebration.
The construction project was conceived 12 years ago by Phra Kanajanjin Khamma Punya Jariyaporn, vice-patriarch of the Chinese Buddhist Sect and abbot of Wat Mangkornkamalavas.
He found his temple - the original home of the Chinese Buddhist sect in Yaowarat district, which the King and Queen visit every year - too crowded for its 200 novices and monks and hundreds of worshippers.
Learning centre
The 11-rai site of the new wat in Nonthaburi was tiny at the time, occupied only by a vegetarian kitchen run by the Yawarat temple.
Today there is the main edifice with three Buddha statues, a secondary structure dedicated to Guan Yin, the Goddess of Mercy, and two other buildings for the novices and monks.
The temple is expected to be more than a new monas-tery for seekers of peace and guidance. It will be a learning centre for all of the country's Chinese Buddhists.
Vibrant with colour
Thais are familiar only with Theravada Buddhism. Phra Kanajanjin wants people to know more about Mahayana Buddhism, and plans to establish a hall retelling Buddhism's history.
Drawing inspiration from the art of China's Ming and Qing dynasties, Wat Boromracha Kanchanapisek Anusorn is vibrant with colour.
Most of the construction material was handmade in China, including the engraved granite columns, brass Buddha statues and carved wood murals.
For the design, a team of Thai architects was joined by a Chinese architect who has designed numerous temples in his homeland.
Donations to the Chinatown temple covered the cost. The figure hasn't been disclosed, but the abbot insists it was less than Bt1 billion.
If that still seems like a lot, he points out, "This temple can't be any less luxurious, because it's meant to honour the King."