Wat a controversy!
The Bangkok Post, June 9, 2008
Bangkok, Thailand -- The Democrat party has urged the government not to rush to support Cambodia's attempt to register Preah Vihear temple as a new World Heritage Site.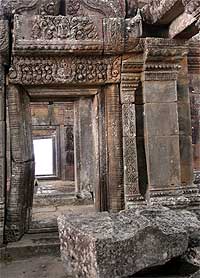 << Preah Vihear is claimed by both Thailand and Cambodia
Democrat deputy leader Alongkorn Ponlaboot said on Sunday that the government should think carefully before backing the Cambodian effort.
He was speaking after Phnom Penh redrew the boundaries of the ancient temple site to convince the United Nations Educational Scientific and Cultural Organisation (Unesco) that it now deserved to be put on the World Heritage list. The old map, which was opposed by Thailand, included overlapping areas.
Mr Alongkorn said that by supporting Cambodia on the issue, Thailand would automatically lose its right to reclaim sovereignty over Preah Vihear in the future.
On June 15, 1962, the International Court of Justice ruled the ancient temple belonged to Cambodia. Mr Alongkorn said the ruling was unfair and not based on law.
The Treaty of Versailles stipulated later that the demarcation of the disputed areas was questionable, and that was why Thailand wrote to the United Nations secretary-general on July 3, 1962, saying it reserves the right to reclaim the ancient temple in the future, he said.
"The present government has no right to either sell or reclaim Thai sovereignty in this case. Next week, I hope, the National Security Council (NSC) and cabinet will review the issue. Otherwise, it would be a shame and tantamount to betraying the nation and selling Thai sovereignty to another country," Mr Alongkorn said.
He suspects vested interests are behind the move to support Cambodia on the listing.
Mr Alongkorn suggested the government oppose the listing and ask Unesco's World Heritage Committee to drop the issue from the agenda of its July 2-10 meeting in Quebec.
The new Cambodian map will be discussed at the NSC's weekly meeting today. If the NSC approves the map, cabinet is likely to endorse the map tomorrow.