Thailand: Off the booze for Buddhist Lent
by Supoj Wancharoen, The Bangkok Post, July 18, 2008
Bangkok City Hall is campaigning to cut down on the sale and consumption of alcoholic beverages on national holidays
Bangkok, Thailand -- Measures to turn people away from selling and drinking alcohol are expected to yield tangible results over Buddhist Lent period, which begins today and will end on Oct 14.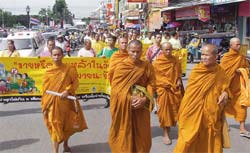 << Monks walk with people in Nakhon Ratchasima to campaign for alcohol-free days. People nationwide are campaigning for an alcohol-free, three-month Buddhist Lent, starting today.
The 2008 Alcohol Control Act is now in place, banning the drinking of alcohol in temples or places for organising religious rites, public health service locations, hospitals, government offices, schools and other places of education, and petrol-filling stations.
Alcohol sales are off-limits in those six places and student dormitories.
The penalty for breaking the law is six months in jail and/or a fine of up to 10,000 baht.
Bangkok Deputy Governor Sithisat Chiamwongpaet said the Bangkok Metropolitan Administration (BMA) has set up a committee to control alcohol drinking during Buddhist Lent.
It will work together with other state agencies and the private sector to keep a lid on alcohol consumption among children and young people in the Bangkok area and tackle alcohol-related problems among them.
A hotline number, 1555, is open 24 hours to receive tip-offs from people who witness violations of the alcohol law.
People who want to make a resolution on Buddhist Lent Day to cut down on and finally give up drinking can receive advice from 18 centres for alcoholics under the BMA's Health Department, and from the BMA Medical College and Vajira hospital and Taksin hospital.
Mr Sithisat has told the BMA's Education Department to survey areas within a 500-metre radius of 436 schools run by the BMA to see how many unlicensed watering holes there are around the schools. There have been complaints of many bars serving the popular "liquor smoothie" and yadong (herbal liquor).
"I want agencies to consider giving more power to thetsakit city inspectors or environment and sanitation officers in the 50 districts to deal with law breakers in the same way as police do," Mr Sithisat said.
This will help lighten the workload of police and ensure the campaign against drink-driving is a success and the number of alcohol-related accidents falls.
Alarming accident figures during the Songkran holiday early this year prompted Interior Minister Chalerm Yubamrung to float the idea of banning the sale of alcohol during all national festivals, drawing a furious response from drinkers.
But the idea was latched on to by Bangkok Governor Apirak Kosayodhin. He took it up and ordered his staff to conduct a poll from April 25 to May 9 to find out what people would think if alcohol sales were banned on New Year's Day and during the Songkran festival.
The poll surveyed 21,834 people in Bangkok and surrounding areas. Of these, 19,921 were asked to fill in questionnaires, 47 posted their opinions on the issue in the BMA's website and 1,866 voiced their views on public service radio stations Jor Sor 100 and Sor Wor Por 91.
It found 75% agreed that alcohol sales should be banned on New Year's Day and during Songkran. Some 58% said the ban should cover all festivals while 77% believed the ban would help cut accident and crime rates.
The cabinet recently resolved to make Buddhist Lent Day, or Khao Pansa, a national alcohol-free day, beginning this year. In keeping with the cabinet resolution, the Stop-drink Network and the Thai Health Promotion Foundation have jointly launched a drive aimed at convincing operators of restaurants and food shops to do their bit to support the national alcohol-free day by not selling alcohol on Buddhist Lent Day.
Songkran Phakchokedee, director of the Stop-drink Network, said campaigns targeting these operators are necessary as the operators have a direct bearing on domestic alcohol consumption.
More than 251,000 restaurants and food shops have licences to sell alcohol.
At present, around 15-16 million Thais drink and a combined sum of as much as 200 billion baht is spent on alcohol each year, Mr Songkran said.
The anti-alcohol campaign during Buddhist Lent should be a great help. It has succeeded in encouraging five to six million people to stop drinking annually during the Buddhist Lent period, he said.