The whys and wheres of wats
by Patricia Maunder, Sydney Morning Herald, Oct 18, 2008
Buddhist temples may be beautiful but they can be mystifying for tourists
Bangkok, Thailand -- For tourists without the insight that comes from faith or scholarship, Buddhist temples can be beautiful but superficial experiences. What are the stories behind those images and statues? Possibly even more daunting is knowing the etiquette; being respectful may not be enough.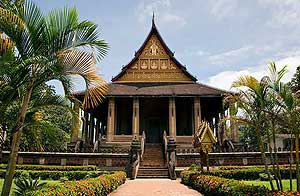 << Wat Phra Kaew in Bangkok
The Thai capital, Bangkok, is often the first stop on Australians' South-East Asian odysseys, and where the corny jokes about wats, the name for Buddhist monasteries, begin: "Wat the ...?!" or "Wat's that?!"
Understandable, given our limited grasp of exactly what we are looking at.
Wat Pho is the city's oldest and largest temple. The complex features a striking array of stupa, the tapering towers in which Buddhists' ashes are placed. The larger and more opulent, the more important the deceased. The grandest stupa are said to hold relics of Buddha himself.
At Wat Pho, their size and decoration of elaborate ceramic patterns reveal there are plenty of VIPs laid to rest here.
However, the main attraction is the main temple, spectacularly dominated by Thailand's largest reclining Buddha statue, which is 46 metres long, 15 metres high and covered in glowing gold leaf.
A reclining Buddha represents the moment of his death as he finds final enlightenment or nirvana. It's just one of more than 100 poses a Buddha statue may take, each representing a significant moment in the life of the founder.When Buddha is shown sitting cross-legged, with hands resting palm upwards on the lap, this signifies his life-changing meditation under the Bodhi tree, which led to enlightenment.
A short walk from Wat Pho is the most sacred site in Thailand, a complex featuring Wat Phra Kaew and the revered royal family's Grand Palace. The magnificently decorated wat is home to the Emerald Buddha, which, despite its fame, is possibly the least impressive thing here for non-Buddhists. Made of jasper, it's about half a metre high and perched up in the gods, making it difficult to see.
This palace-temple complex strictly enforces the modest dress code required for sacred sites in Buddhist countries. Before you enter, staff assess your attire and, if you don't pass, they point you toward the queue for hiring suitable clothing.
What is considered modest attire varies from country to country but shorts and skirts above the knee, uncovered shoulders and transparent clothing are always unacceptable in a wat. Even worse than bare shoulders or knees is wearing shoes. Look for where others have left their footwear and do the same.
To reach Wat Phra That Doi Suthep in Chiang Mai, one of the most important temples in northern Thailand, you need to climb more than 300 steps. You'll be sternly watched by impressive statues of naga, serpent spirits frequently seen along stairways at Buddhist sites. Naga often appear in multi-headed form, as in images with the serpents rising to form a shelter for Buddha.
The view from Doi Suthep is impressive, as is the abundance of gold leaf adorning various stupa and Buddhas in myriad poses.
Further north is Wat Rong Khun. This creation of wealthy artist Chalermchai Kositpipat is in striking contrast to the colourful gilt wats typical of the region, being completely white with mirror embellishments.
The ornate exterior is impressive but some of the decoration inside is surprising - in particular the surrealist sci-fi fresco on one wall, featuring a tiny Keanu Reeves as Neo from The Matrix.
It's very tempting to point at and take photos of fascinating sights such as this inside Buddhist temples but there are restrictions, so don't. Monks are incredibly photogenic but they, like anyone, probably don't like strangers taking their photo without permission.
In Buddhist culture it's considered rude to point at people or religious objects - use your open hand to gesture. Also try to avoid touching people or sacred statues on the head, passing anything with your left hand, and pointing the soles of your feet toward people or holy objects (so don't sit with your legs out in front of you).
After crossing into Laos, you may notice stylistic differences in Buddhist design. Subtle differences in architecture, symbolism and Buddha statues' facial features are apparent when crossing borders or cultural boundaries in Asia.
There are two Buddha poses distinctive to Laos: Calling for Rain, in which the figure stands with hands pressed to its sides; and Contemplating the Bodhi Tree, in which the figure stands with straight arms crossed at the wrist. These poses can be seen at Wat Phu Si, one of the most pleasant temples in Luang Prabang. Set on a hilltop, it has great views of the town and confluence of the Mekong and Nam Khan rivers, while the slopes provide shady tranquillity (and a few mounted guns, remnants of the region's past).
Luang Prabang is a quiet, picturesque town ideal for watching or even participating in the giving of alms to monks that occurs at dawn in Buddhist countries.
Women and girls should be careful not to even get close to monks as their vows require them to keep their distance from females; don't be surprised if they won't accept something directly from your hand.
Pha That Luang, a large gilt stupa in the Laotian capital, Vientiane, is a revered symbol of the nation's sovereignty and Buddhist faith. However, perhaps of greater interest to tourists are Wat Sri Saket, the city's oldest temple, and Haw Pha Kaeo, a temple-turned-museum of religious art.
Wonderfully atmospheric, the early 19th-century Wat Si Saket is made of worn, earth-coloured tiles, bricks and stone and is surrounded by a colonnade housing more than 2000 Buddha statues.
Haw Pha Kaeo is a mid-20th-century French reconstruction of a 16th-century temple built to house that famous Emerald Buddha, now in Bangkok. The terrace surrounding the temple shelters beautiful, centuries-old Buddha statues, while the interior is packed with Buddhist treasures. Sadly, the dim lighting, cluttered presentation and handful of early 20th-century explanatory notes handwritten by French colonial scholars don't do justice to a collection that would shine in a well-funded museum. A clear sign that money's tight is the electrical short sparking behind a very old power point. To think that this priceless collection could go up in smoke at any moment ...
In Cambodia, war and poverty also have hit the people and their cultural heritage. Here, the Khmer Rouge destroyed most traces of Buddhism during their brutal 1970s reign, so there's very little of beauty or historical significance left.
One of the few remaining Buddhist treasures is Wat Preah Keo, better known as the Silver Pagoda to English speakers, in the grounds of Phnom Penh's Royal Palace. About 60 per cent of its contents are said to have been destroyed by the Khmer Rouge but what is left is impressive. Highlights include the 5000 silver tiles covering the floor, and a life-size gold Buddha, standing with palms facing outward in a gesture representing protection, and decorated with about 10,000 diamonds.
What of the most famous wat of all, Cambodia's awe-inspiring Angkor Wat complex, comprising hundreds of temples that were once part of a large, prosperous city?
Buddhist statues and monks are now present but for much of its history Angkor was a Hindu site. In the 12th century, during a brief period when Buddhism was the official religion, new temples such as the Bayon and Preah Khan were adorned with Buddhist iconography.
However, much of it was destroyed or altered in the 13th century when the state religion reverted to Hinduism. You need a keen eye to see original Buddhist images in Angkor's temples.
Elsewhere in South-East Asia, significant Buddhist sites to rival Angkor's ancient splendour are Bagan in Burma, as well as Borobudur in Indonesia, a remarkable relic of the Buddhist past in what is now the world's most populous Muslim nation.