Protesters protest planned listing of Beer Chang
By The Nation, Oct 27, 2008
Bangkok, Thailand -- Hundreds of people, including youth, demonstrated outside Thailand's Stock Exchange of Thailand on Monday to protest plans by Beer Chang company to list its shares on the market.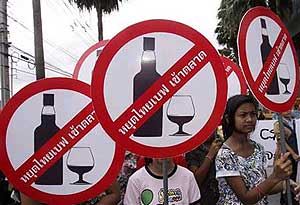 << Thai protesters hold signs meaning "stop listing beer at stock market" outside the Stock Exchange of Thailand in Bangkok Monday, Oct. 27, 2008. Hundreds of people demonstrated outside Thailand's stock exchange Monday to protest plans by the country's largest beer maker to list its shares on the market. (AP)
Thai Beverage PLC, which brews Beer Chang, the country's top seller, has applied for listing on the Stock Exchange of Thailand. It plans to complete the listing by the end of the year.
If successful, the company would be the first alcoholic beverage company to list on the market in Thailand.
Many of the protesters were antialcohol activists and members of Buddhist organisations. Some carried banners reading, ``Stop encouraging drinking, oppose the listing of Thai Bev on the SET.'' Others showed pictures of victims of drunken driving.
The protesters said allowing the firm to raise more money in the market means we are promoting alcohol consumption. It is not the kind of company we want on the Thai market.
They will protest outside the Finance Ministry on Wednesday, he said.
Thai Bev, one of the region's Southeast Asia's biggest brewers and distillers, was listed on the Singapore stock market in May 2006 after its previous attempt to list on the Thai market was derailed by a 2005 protest movement that drew thousands of people.
One of the spearhead in opposing the listing in 2006 was Chamlong Srimuang who is now leading antigovernment protests in the Government House.
Chamlong said that for this time, he would not personally lead the opposition to Thai Bev's listing due to his unfinished business at Government House.
He noted that other Buddhist and antialcoholic beverage groups would continue to oppose the ThaiBev bid.