Thailand plans Buddhist rites at reclaimed Government House
TNA, Dec 8, 2008
BANGKOK, Thailand -- Thailand's caretaker government will sponsor a major Buddhist rite, and publish a memoir on the seizure of Government House by anti-government protesters for more than three months, the first time such an incident has ever happened in Thailand.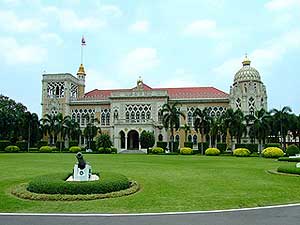 Loyluen Bunnag, deputy secretary-general to the prime minister, said officials at Government House -- occupied by protesters from August 26 to December 3 will conduct a major Buddhist alms offering ceremony and will publish a memoir on the takeover and occupation.
The memoir will serve as history for the new generation to learn, he said.
During the occupation of Government House, its civil servant staff as well as the then prime minister used Don Mueang domestic airport as temporary office.
Mr. Loyluen said the caretaker government will not use Don Mueang airport as a backup office any more but will instead use the Ministy of Foreign Affairs for a weekly cabinet meeting as well as for acting prime minister Chavarat Charnvirakul to work.
On damages inflicted on the landscape of Government House by protesters during the siege, Pongsak Siriwong, chief of the buildings and security unit for Government House, said a number of valuables were missing after the protesters had departed.
It is expected that the government must spend a minimum of Bt20 million on renovation, especially the gardens.
Since the landscape within the Government House compound will be beautified, Mr. Pongsak said he would propose for a budget totalling about Bt800 million to demolish a building and construct a new underground
four-storey parking lot which could accommodate 900 cars.
He said parties could be held on the veranda of the car park building and protesters might rally there, if they wish, in future.