Thai Airways charts Buddhist circuit course
The Nation/Asia News Network, Feb 23, 2005
BANGKOK, Thailand -- Thai Airways announced that their first-ever chartered flight, in 30 years of business, would be to the Buddhist Circuit of India. The trip would be made between 11-13 March. A personal initiative of President Mr Kanok Abhiradee, the flight is based on the airlines? aim to open out the holy circuit to thousands of Buddhist pilgrims around the world.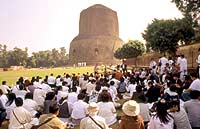 << Sarnath, one of the Holy places in the Buddhist circuit
?The Buddhist sites in India are as important to the Buddhists, as Mecca is to the Muslims or Rome is to the Christians,? he said. While Thai Airways? initial chartered flight would cover Bodhgaya, Saranath and Varanasi (the pilgrims would do a boat-tour of the Ganges river, which is the holiest river in India), Ms Nareeluck Wimooktanon, VP, Travel Planning and Special Projects, hoped that the airlines? next chartered flight would cover Kushinagar and Lumbini. She said the airlines would negotiate with India for landing rights at the Gorakhpur airforce base.
?India?s Open Air policy has led to Thai Aiways increasing their routes in India and we hope the Buddhist Circuit will benefit by this too as there?s a huge demand,? she added. She said it took a long time to plan the flight because the infrastructure in the region was bad, and she hoped the Indian government would improve on it.
The highways are bad, there are no toilet facilities during road journeys between the Buddhist sites, and hotel rooms are limited. The navigational aids at Gaya airport also needed to be improved. Ms Nareeluck stated that the weather played an important part too because heavy fog in winter and extreme heat in summer, made it impossible for foreigners to visit.