Luangta Maha Bua calls rally of monks
Bangkok Post, March 4, 2005
Supreme Patriarch's panel decision sought
Bangkok, Thailand -- Revered monk Luangta Maha Bua Yannasampanno will gather thousands of monks to find ways to appeal to His Majesty the King to sack Somdej Phra Buddhajarn, who acts on behalf of the ailing Supreme Patriarch, and to stop Deputy Prime Minister Visanu Krue-ngarm from keeping any administrative post.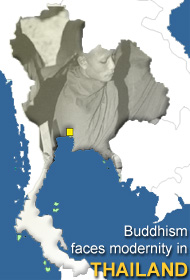 A source from Wat Pa Ban Tad in Muang district, Udon Thani, said Phra Thammawisuthimongkol, or Luangta Maha Bua Yannasampanno, would hold a meeting of monks at the main pavilion of Wat Pa Ban Tad at 2pm today to seek a resolution against Somdej Phra Buddhajarn, chairman of the panel for acting on behalf of the Supreme Patriarch, and Mr Visanu who oversees the National Buddhism Office.
The invitation to the meeting was also made public on Luangta Maha Bua's webpage www.luangta.com and issued in letters to monks sent by the temple's secretary Phra Arjarn Soodjai Thantamano. They read: ''The conduct of Somdej Phra Buddhajarn (Kiew Uppaseno), chairman of the committee acting on behalf of the Supreme Patriarch, and Mr Visanu Krue-ngarm, as well as the draft bill on special economic zones which will badly affect monastery land and monks residing in reserved forests can lead to rifts in Thailand, and also an end to Buddhism and dhamma discipline.''
The secretary quoted Luangta Maha Bua as saying he wanted monks nationwide to attend the meeting to show their unity.
Thongkon Wongsamut, a leading disciple of Luangta Maha Bua, yesterday invited the media to a press conference to be held at Wat Pa Ban Tad at 2pm today, saying the monk appealed to His Majesty as the country's leader and supporter of all religions in Thailand to deprive Somdej Phra Buddhajarn of his ecclesiastical rank and not to appoint Mr Visanu to any administrative posts.
At least 10,000 monks are expected to attend the meeting, but some believed only 3,000-5,000 would join after seeing preparations for the event at Wat Pa Ban Tad.
Yesterday, 30-40 monks and laymen cleaned the temple compound and the pavilion which will be used as a venue for the gathering. Several monks at Wat Pa Ban Tad confirmed the meeting would take place while monks whose names were on the invitation refused to speak and asked reporters to wait until today.
Luangta Maha Bua has delivered sermons opposing the government policy to establish special economic zones, which he says could affect temple ownership.