Beer and Buddhism, a Definite No - Cry Conservatives
by Sonny Inbaraj, IPS, March 21, 2005
BANGKOK, Thailand -- Beer business and Buddhism, in Thailand it seems, do not mix. And that will be the message the Stock Exchange of Thailand will have to heed when it meets Wednesday to decide whether to allow the public listing of Thai Beverages, brewer of the country's best-selling Beer Chang or ''Elephant Beer''.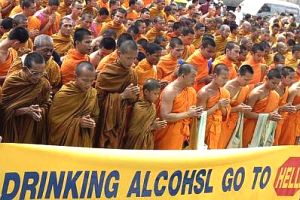 On Friday over 2,000 monks from the Thai Buddhist Monks National Coordination Center made their way to the stock exchange headquarters in Bangkok's Ratchadaphisek area and chanted prayers outside the building to condemn liquor companies.
In a statement, they denounced the listing as ''a grave threat to the health and culture'' of the predominantly Thai Buddhist society, ''which could be harmed by the proliferation of the liquor business.''
''It is one of the duties of a Buddhist monk to promote good morality to the world. We have poured away liquor and burned cigarettes in our protests before,'' monk Phra Kittyano Bhikku told reporters at the protest.
At the heart of the matter is Thai Beverages, owned by Charoen Sirivadhanbhakdi who was named by 'Forbes' magazine as this year's richest man in Thailand.
Charoen, a strong political and financial supporter of Prime Minister Thaksin Shinawatra, intends to sell one-third of Thai Beverages' shares to the public, raising up to one billion U.S. dollars in what could be the biggest listing in the history of the Thai stock exchange.
Beer Chang, Thai Beverages' flagship, was launched in cooperation with Carlsberg Breweries of Denmark in 1996 and was awarded a gold medal at the Australian International Beer Awards in 1998. It now controls about 80 percent of Thailand's 2.1 billion U.S. dollar domestic beer market, edging out Singha Beer that used to be the country's top selling brand.
Thai Beverages in a statement said its priority was to list on the Thai stock exchange, even though other markets, such as London, Singapore and Hong Kong have courted it.
Stock exchange authorities are keen to list Thai Beverages because they feel it would add to the size of the Thai market, making it more attractive to local and international investors.
''If Thai Beverages were listed it could be useful to the market and to the Thai economy because the firm would become stronger and be in a position to raise money to reduce debt,'' Kittirat Na Ranong, president of the Stock Exchange of Thailand, told a business seminar over the weekend.
But the strong anti-listing sentiment among Thailand's conservatives and anti-alcohol advocates could see stock exchange officials delaying their decision just to buy more time - especially when there is increasing concern about the drinking habits of fun-loving Thais and the rise in teenage alcoholism.
According to the Stop Drinking Alcohol Network, a group advocating tighter restrictions on alcohol sales, the average Thai drinks 14 liters of pure alcohol a year, higher than anywhere in Asia. Also, alcohol consumption among female teenagers increased by 600 percent between 1996 and 2003.
Duenden Nikhomborirak, a medical doctor with the Thailand Development Research Institute, said that the stock exchange listing would strengthen the beer giant making alcohol sales more difficult to control.
''While large amounts of alcohol are still being sold to young people, and while law enforcement remains poor, we should not allow alcoholic products to be listed on the stock exchange'', said Duenden.
''We first need to build up mechanisms which help reduce the consumption of alcohol,'' she added.
Currently, sales of alcohol are banned in retail outlets, including supermarkets, between 9am and 11am and from 2pm to 5pm.
''Millions of Thai children and women suffer at the hands of drunks everyday,'' said the Thai Women Leaders for Community Development in a statement. The group also condemned the planned listing of Thai Beverages as an act of pursuing economic goals without regard for the country's social and cultural interests.
Given the close relations between Thai Beverages' Charoen and Prime Minister Thaksin's ruling Thai Rak Thai party, it cannot be ruled out that the premier himself might intervene in the controversy.
But for the time being the party seems to be shying away from the religious, moral and cultural time bomb.
Deputy Interior Minister Somchai Sunthornvut, chairman of Thai Rak Thai's party meetings told 'The Nation' daily that any move by party MPs to either support or oppose the listing was an individual matter and had nothing to do with party politics.
But secretary-general of the Campaign for Popular Democracy, Suriyasai Katasila told reporters over the weekend if Thai Rak Thai MPs sincerely supported the campaign against Thai Beverages' listing, then they had to push for the issue to become government policy.
''If they are sincere about moral issues, they must not show selective opposition. Their move could attract suspicion if there's any hidden agenda,'' he said.