A labour of LOVE
By: Story YANAPON MUSIKET Photos YINGYONG UN-ANONGRAK, Bangkok Post, 21 April 2009
The restoration of a Tai Lue temple in Xishuangpanna has strengthened the bonds between the Tai Lue people in Thailand and China
Bangkok, Thailand -- I was the first time in his life that 26-year-old Arnat Suta had left his small village in northern Thailand on a trip abroad. But once he arrived at the destination, he immediately felt right at home.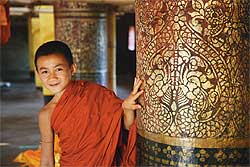 << A young Tai Lue novice with the ancient gilded pillar of Wat Ban La Muen.
His father Benjimin felt the same way.
Benjimin and Arnat are renowned artisans in northern-style temple construction and restoration, particularly in the ethnic Tai Lue tradition. And when they were recruited along other Tai Lue temple artisans to help restore a dilapidated Tai Lue temple in Xishuangbanna, China, they were thrilled.
"This is where our Lue ancestors came from," said Arnat, who lives and works at Ban Had Nak, one of the ethnic Lue villages in Chiang Mai's Chomthong district. Their ancestors can be traced back to the Lue in Xishuangpanna, which used to be part of the northern Thai principalities.
"This job is important to me because I am a Buddhist and I have Tai Lue blood. This is where our forefathers once lived, and we are here to give back to our ancestral hometown," added his father, Benjimin.
Their mission is to provide technical direction to local artisans to restore a Tai Lue temple at Ban La Muen in Xishuangpanna, or Sipsong Panna in Thai. Located about 6km from Menghai township, a sub-area in Xishuangbanna county in Yunnan province, the Theravada buddhist temple houses rare, original art of gold leaf stencil decoration, a precious heritage of the Tai Lue community in China.
Tai Lue is an ethnic minority group in China that has its language, Tai Lue, which is close to the languages of the residents of the Mekong region, particularly those of northern Thailand. A majority of the Tai Lue population are Theravada buddhists.
According to Dr Rujaya Abhakorn, director and fundraiser of the temple restoration project, the Wat Ban La Muen project stems from Unesco Bangkok's initiatives, to revitalise Buddhist arts and crafts in the Mekong sub-region. It is now run by a group of teachers at Chiang Mai University and Silpakorn University.
Wat Ban La Muen is one of the cultural sites needing urgent support. But donations are not the only form of assistance that the locals are asking for; they also need help to revive lost skills to preserve their temple on their own on a long-term basis.
That is why Arnat, Benjimin and other artisans were in Xishuangpanna.
"They say they are happy to see us, to see Thai people visiting Ban La Muen ," Benjimin translated for Arnat, who stood closely by his father upon their arrival at the temple. Unlike his dad, his knowledge of Tai Lue is as poor as his English, Arnat joked. Although the roots of Tai Lue are close to those of "Kham Muang", a northern Thai dialect, Arnat initially struggled when he had to converse with the "trainees".
Among them was Yan Yin Gang, who preferred to be called Khanan Khang. Khanan is similar to the Thai word tid, used to address a man who was once ordained as a monk. Khanan Khang is the man involved in the restoration project since it was on the drawing board.
Although he is Chinese-Tai Lue, Khanan Khang speaks fluent Thai. When he was still a monk at Wat Bajie, the main Theravada Buddhist temple in Xishuangpanna, he was sent to study dharma in Thai temples for six years, he said.
After returning to his hometown, Khanan Khang started to act as a volunteer for Unesco in Xishuangbanna to survey the situation of Buddhist art and cultural heritage and to identify their needs. He now serves as the coordinator of the restoration project, which received the green light last year.
"I am also a Tai Lue, and it is really heartening to see the Tai Lue brothers from Thailand and China working closely together to save our ancient cultural heritage, which needs to be urgently restored," he said.
Original religious art and decorations survive in only three temples in Xishuangpanna. Wat Ban La Muen is one of them, he said, adding that it was chosen to be the first restoration site because of the people factor. Apart from having a deep understanding of the intangible value of cultural preservation, they also want to be part of it.
According to Dr Rujaya, the vihara (chapel) of Ban La Muen dates back to 1743, when it was initiated by a local leader, Phaya Muen Kan Cai, to replace the old vihara. After the approval of the king of Sipsong Panna had been obtained, it was built by local artisans together with their peers from other principalities, namely Chiang Saen and Chiang Rai, which are now in Thailand, as well as some from Ava and Mandalay in Burma.
Caught in the fervour of the Cultural Revolution in China between 1966 and 1976, Wat Ban La Muen was partially ruined. Fortunately, the vihara of Wat Ban La Muen was only slightly ruined as the abbot at that time turned the hall into a storeroom for tea leaves, the main commercial product of the area, in order to be prevent the demolition of the entire temple.
After the return of religious freedom in 1982, Ban La Muen villagers decided to restore the temple. In 1987, the restoration work was finished, complete with a new Buddha image and altar designed by famous local artist Khanan Mahasai. However, much of the restored portion lost the authenticity of the original craftsmanship due to the use of modern materials as replacements. Only the beautifully gilded pillars remained untouched.
"When our team came here in 2005, the temple was in the process of planning another restoration job. Many locals wanted to 'rebuild' the temple. Following our report to Unesco Bangkok on the wave of activities prevailing then, we were asked to negotiate with the headman to put their ideas on hold and to consider our proposal instead," recalled Khanan Khang.
"We explained to them that the truly original artifacts that represented the Tai Lue culture and history were right here at Wat Ban La Muen, and that if they replaced them with new materials, there would be no such heritage for future Tai Lue generations to appreciate their people's original art," he said emphatically.
At first, many of the younger members of the community still wanted to construct a brand-new, colourful temple. But when a respected village elder, 73-year-old Khanan Chom, expressed his concerns over the possible loss of the community's ancient cultural heritage, everyone listened.
Khanan Chom, the most revered person in the village, and who is considered the brother, father and grandfather of many of the people in Ban La Muen, explained the reason behind his full support for conservation.
"This is the most sacred place in our village. All the khanans in this village were once ordained here. First, I also thought it might be too complicated to restore the temple in the traditional way as we don't have any specialists here. But when we heard of our brothers and sisters from Thailand who were willing to help us, I couldn't agree more," said Khanan Chom, smiling.
Benjimin Suta (left) explaining the restoration plan to Ban Lamuan locals and craftsmen.
Ai Kaew Wai, Khanan Chom's son-in-law and current headman of the village, added that the skills-sharing project has created a special, tight bond between the people of the two countries.
Once everybody was happily replete after the breakfast prepared by the housewives of Ban La Muen, Arnat and his father, together with Khanan Khang and Khanan Chom, gathered everyone in front of the vihara and began the first day of training.
After explaining the restoration steps, Arnat showed them the draft of the construction plan he had brought from home, while his father translated his words into Thai Lue.
A 4m-long plot was dug at the site for mixing the cement, which would be used in the next few days. Timber was tied to form a ladder for craftsmen to climb up to the roof.
"They treated us very kindly. Once we finished our work, food and tea was always ready," laughed the good-natured Arnat.
Time passed swiftly. When the last day of training ended, Arnat and his father were surrounded by their Tai Lue brothers and sisters of Ban La Muen. The farewell session was as warm and friendly as that on the day of their arrival at the village.
Cheers of yindee, yindee, meaning "thank you" in Tai Lue, filled the air as the van moved away and gradually disappeared from view.