Staying neutral is hard for monks
by SHAHANAAZ HABIB, TEH ENG HOCK AND BRIAN MOH, The Star, April 19, 2010
BANGKOK, Thailand -- Buddhist monk Ajahn Suthep has been showing up at the anti-government Red Shirts rally site in the city but says he is neutral.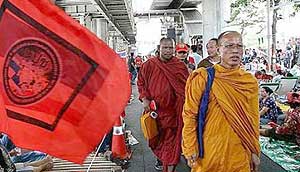 << Caught in the middle: Monks passing by the anti-government protesters at the Ratchaprasong district in Bangkok Sunday.-Brian Moh/The Star
"I came as an observer. I've learnt to stay above it. I know it. I see it. I understand it but I won't be it," he said.
Buddhism is the main religion in Thailand and there are 300,000 monks here.
Ajahn, who has been a monk for 22 years, admits that the political situation in the country has broken society into two and that it is hard even for monks to control their thoughts, feelings and rise above the political divide.
So there are red monks who are anti-government and followers of ousted Prime Minister Thaksin Shinawatra and yellow monks who are pro-government and for Prime Minister Abhisit Vejjajiva.
"I wish to stay in the middle," said Ajahn. For him, the political going-ons is like watching a movie.
"You see the movie and you understand it. But if you feel impressed with the movie or you feel sad or joy, that's emotion. And that's illusion." Saying that if a person attaches himself to something, he will suffer.
"But if you empty your mind, you have no suffering when you deal with what's happening outside," he said, adding that Buddhism is also active in helping society change and develop.
"You can't change society outside only but change them also from the inside," said Ajahn who also conducts Vipassana meditation courses.
Monk Suwichano is chief of training at University Maha Chulalong-korn and believes that monks should not be taking the position that they are in today in Thailand.
He said ups and down and conflicts are the nature of society and monks should not take sides. But the fact is, he said, that about 70% of the monks are with or sympathise with the Red Shirts.
He said there are various reasons why monks have aligned themselves, adding that monks are after all individuals and human, and so there might be some people who they don't like or they have gone there to give advice to the people and cool them down.
He said monks should be negotiators in conflicts. So would they get involved to find a peaceful resolution for both sides? At this stage, Suwichano believes that the tensions are too high and "cannot be stopped by monks, words or even the king".