Making merit through good deeds
By FOO YEE PING, The Star, March 11, 2005
BANGKOK, Thailand -- MAKE merit (tham bun). These two words are a big part of the Thai vocabulary in this Buddhist kingdom. Everyone, from the cleaning lady to the Prime Minister, will always seek opportunities to make merit in his or her own way.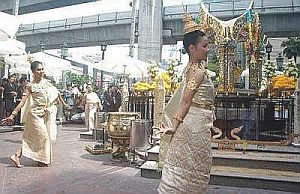 << File picture of a ceremony being held at Erawan Shrine in Bangkok. The traditional ceremony was held at the shrine in September 2003 in conjunction with the plans of one company which was launching an Erawan project. - The Nation/ANN
The locals believed that their present existence was a consequence of what they did in their past lives.
?Hence, the rush to make merit is to improve one's chances in the next life,? said the ?Streetwise? column in ?The Nation?.
It could be offering alms, donating to the temples or any other kind act that you can think of. And it could be done at any occasion on any day. In short, anytime is a good time for a good deed.
Thaksin Shinawatra, for instance, made merit at a temple in his hometown of Chiang Mai four months ago. At one wat (temple) where his ancestors? urns are kept, he donated Bt3mil.
Just last week, about 100 Thai millionaires were reportedly in China for the opening ceremony of a Buddhist shrine.
A survey conducted by a research centre found that Thais collectively spend as much as Bt3bil every year in making merit.
However, there are different ?categories? of making merit and the goodwill that these acts can lead to.
?For example, monks are holy men. So, donating to them will bring a lot of merit,? said SK, a Thai friend.
On April 10, Thailand will witness mass merit-making ceremonies throughout the country. This is to mark 100 days since the tragic Dec 26 tsunami which swept away at least 5,300 people from the shores of Thailand.
Thais observe major events on the Buddhist calender, which are declared public holidays throughout the country.
Last month, there was the Makha Bucha Day, which marks the anniversary of Buddha?s first sermon.
Come May 22, there will be the celebration of Visakha Bucha Day that commemorates Buddha's birth, his enlightenment and death.
And July 22 will be the start of the three-month Buddhist Lent.
Thais do not just pray at the temple. Everywhere in Thailand, you would see spirit houses that are said to be the dwellings of the spirits.
Such spirit houses can be found outside almost every building in Bangkok. They differ in sizes. A grand hotel would have an elaborate spirit house outside its premises.
The Erawan Shrine outside the Grand Hyatt Erawan Hotel is arguably one of the most famous of all shrines in Bangkok and was built to ward off misfortune that occurred during the construction of the hotel. Scores of believers, not just Thais but foreigners from Singapore and Hong Kong, make their way to the shrine day and night to worship the four-headed Brahma deity.
The shrine is often stacked high with garlands and flowers placed by devotees. Smoke from joss sticks permeates the air, as men and women, young and old, kneel down in prayer in front of the deity, oblivious to the noisy traffic ouside.
The shrine is located at the junction of the ever-busy Ratchadamri Road, just in front of the sprawling World Trade Centre, which is a magnet to shoppers and tourists.
The Erawan Shrine is a fascinating place to get a glimpse of the Thai way of life. Several huge elephant statues stand at one corner of the shrine, donated by grateful devotees. Erawan, apparently, refers to a holy elephant.
Others conveyed their appreciation for prayers answered by donating to the dancers and musicians at the shrine, who would then perform a traditional song and dance.
?Once, I prayed at the Erawan Shrine to help me in my work at the office. When my wish was granted, I commissioned the dancers to give a performance,? SK said.
Many pious Thais, when they drive or walk past a shrine or spirit house, would clasp their palms together towards the statue.
Still, there are concerns among the faithful in Thailand that youngsters these days are more keen on Valentine's Day than holy occasions such as the Makha Bucha Day.
According to the Religious Affairs Department, these youths were showing less interest in religious activities.
Furthermore, a survey had indicated that a large number of Thai families did not visit temples, according to the department.
But for the majority of Thais, Buddhism is still a huge part of their lives.