Thailand to investigate shootings inside Buddhist temple
By Andrew Buncombe, The Independent, 21 May 2010
Much of Bangkok left in ruins as government tries to find who was to blame for deadly violence
Bangkok, Thailand -- Thai authorities are to launch an investigation into the circumstances of a firefight near a Buddhist temple inside which hundreds of people were seeking safety. Several people were killed outside the temple and bullets were fired into the compound, injuring others.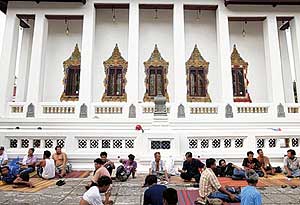 << Red Shirt protesters at the Wat Pathum temple in Bangkok
Amid mounting concerns from human rights campaigners that both Thai troops and hardcore Red Shirt elements unnecessarily put lives at risk, a government official said that various agencies would look into that incident and others. "They are going to launch an investigation into all the incidents that took place," said the official. "I think there will be a range of parties involved."
News of the investigation comes as the government yesterday declared it had mostly ended the 10 weeks of protests that have brought parts of Bangkok to a standstill. Even now, however, some buildings – set alight by Red Shirt protesters – are still smouldering and pockets of resistance are still clashing with the authorities. A night time curfew was extended in Bangkok and 23 other provinces for three more days.
On Wednesday, a large military operation cleared most of a protest encampment in the centre of the capital, leaving 15 dead and 96 wounded. Protesters and troops clashed outside the Wat Pathum temple where hundreds of protesters were sheltering after leaving the main protest site as troops advanced and the Red Shirts leaders told them "it was all over". The Thai troops were armed with automatic rifles and shotguns while the protesters had sling-shots and petrol bombs. Some reporters said they saw protesters armed with guns. Several people were shot in the street outside the temple and bullets also struck parts of the temple compound, supposedly a safe haven. Inside, people took cover wherever they could as the gunfight raged outside.
Yesterday morning, a special police unit led more than a thousand people — many of them women and children — away from the temple. Up to seven bodies were found on the temple grounds. Three more Red Shirts' leaders surrendered yesterday, adding to the five who had given themselves up the day before. They were flown to a military camp south of Bangkok for interrogation. "I'd like to ask all sides to calm down and talk with each other in a peaceful manner," said one of the leaders, Veera Musikapong, after being taken into custody yesterday. "We cannot create democracy with anger."
Since the Red Shirts began their protest in mid-March, at least 83 people – mostly civilians – have been killed and nearly 1,800 wounded. Of those, 51 people have died in clashes that started on 13 May after the army tried to blockade their 1-square-mile camp. The army said they had found a cache of explosives and assault rifles during their sweep against the Red Shirts.
Campaigners said they would welcome an investigation into the violence, particularly the fighting outside the temple. "The facts, I would say, are very contested. There's an information gap and the full picture is still emerging," said Benjamin Zawacki, of Amnesty International. "Obviously it's critical to determine who it was doing the firing. Whoever has the finger pointed at them has a lot to lose politically."
Roger Normand, a senior spokesman of International Commission of Jurists, said: "Given the widely divergent versions of what happened during the clashes, it is essential for the government to undertake a credible, independent and impartial investigation otherwise political polarisation in Thailand will continue to deepen."
Large parts of downtown Bangkok are scorched by insurrection, piles of tyres smouldering beyond razor-wire perimeters where police and soldiers monitor comings and goings to make sure no fresh supplies of weapons reach the pockets of Red Shirt resistance. The list of buildings hit by arson attacks reads like a tourist guide to the city. Some 39 buildings were torched on Wednesday, including the stock exchange, the main electricity provider and various banks.
The CentralWorld mall, Center One, Siam Theatre and Big C Rajdamri were so badly damaged they may have to be demolished. The chief public works officer of the Bangkok Metropolitan Administration said the buildings had burned so long their structures were compromised. The unrest has played havoc with Thailand's tourism industry, which supports six per cent of South-east Asia's second-biggest economy.
Additional reporting by Clifford Coonan