World Cup Gambling Arrests Prompt Buddhist Rule Change
Pattaya Daily News, June 14, 2010
Pattaya, Thailand -- Police have arrested a man in South Pattaya found to be in possession of numerous football gambling slips, largely circulated to members of the public wishing to bet/gamble on football matches. The slips in question were found to be pertaining to the currently ongoing World Cup in South Africa.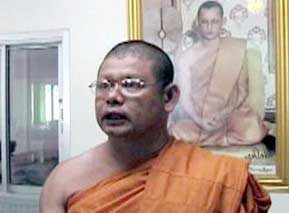 Pattaya, the 13th of June 2010 [PDN]: At approximately 3:00am on Sunday, Colonel Nunthawut Suwanla-ong (Pattaya Police Superintendent) conducted a team of officers to perform a random checkpoint in the South Pattaya area.
During investigations police successfully apprehended Mr. Wichan Phanikhom [46] after he was found sitting on his motorbike whilst in possession of a used stack of World Cup 2010 betting slips. The slips pertaining to the Argentina v Nigeria and England v USA matches on the 12th of June where found to have netted the man approximately Bt30,000 in bets.
Mr. Phanikhom confessed to being involved in an illegal gambling operation with his neighbour. Officers charged him for benefiting from the proceeds of illegal gambling before remanding him in custody for further judicial proceedings.
Following the recent increase in illegal gambling the National Buddhist Office has met in a "Great Samana Consideration" to amend the punishment issued to monks found involved in illegal gambling. According to Dharma rule the punishment issued for monks found involved in such acts is a minor warning, however, the "Great Samana Consideration" agreed to immediately amend the rule, punishing any monk found gambling with loss of his monk status.
Master Siripariyatwigrom (Sriracha District Deputy Head Monk) announced the amendment of the rule after a subsequent announcement was made by the National Buddhism Office Director Jularat Boonyakorn in Bangkok.
The release ordered all temples to strictly maintain the rule in relation to illegal gambling by monks punishing any offenders with immediate termination of his monkhood.