Asarnha Bucha Worship Unites Hundreds at Pattaya Temple
Pattaya Daily News, Jul 27, 2010
Pattaya, Thailand -- The Asarnha Bucha (Asalha Puja) ceremonies held at the Chaimongkol Temple in South Pattaya brought hundreds of joyous worshippers together to celebrate the great Buddha's first sermon.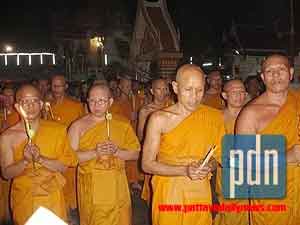 Asarnha Bucha and the proceeding Wan Kao Pansa holds many points of significance to the Buddhist faith and as such is one of the most observed religious holidays throughout Thailand.
Traditionally, Asarnha Bucha, marks the day that Gautama Buddha gave his first sermon at the Sarnath Deer Park in Uttar Pradesh, India. Commemorating the "turning of the wheel of the Dharma," or start of the great Buddha's teachings.
In Pattaya, at the Chaimongkol Temple on South Pattaya Road, locals and tourists came together to pay their respects and worship to the great Buddha. Gift giving ceremonies were proceeded by a traditional Buddhist sermon given by the temple abbot.
Gathered worshippers held candles or neon lights up to the sky throughout the ceremony, praying for prosperity and good fortune in the following months. Similar ceremonies were held throughout Thailand on this most joyous of occasions for the Buddhist faith worldwide.
The day after Asarnha Bucha (known as Wan Kao Pansa) marks the start of the 3-month long monsoon season (July-October). Traditionally, Theravada Buddhist monks observe the period known as Vassa (Rain Retreat) by remaining in their temples for a period of intense meditation. Some Buddhist laity chooses to view Wan Kao Pansa as a form of "lent," choosing to give up things such as meat, smoking or alcohol for the entire period.
Both Asarnha Bucha and Wan Kao Pansa are considered public holidays in Thailand, with all bars and businesses restricted from selling alcohol over the two days. Although traditionally a time of worship and prayer, the two holidays have more commonly become a time when family and friends gather to celebrate life, future happiness and prosperity in all their endeavours.